26 October 2023
Academics present report on cost of living crisis to policymakers
Academics from the Department of Political Economy were part of a research team that presented a new report on the cost-of-living crisis at a summit hosted by the Greater London Assembly.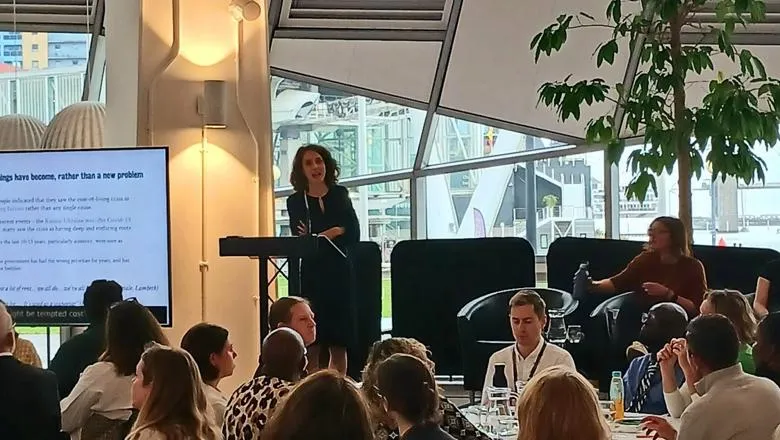 Dr Marta Wojciechowska presents the report at City Hall. Picture: ROD DACOMBE
Dr Rod Dacombe and Dr Marta Wojciechowska were co-authors of the Breaking Point report, which examines the impact of inflation and increasing prices in London and offers insights into what can be done to address it.
The report, co-authored with the Policy Institute at King's, was presented to a group of more than 60 people at a summit organised by the institute and the London Assembly's cost of living working group at City Hall, in Newham, on 19 October.
The event was attended by Assembly Members and city residents.
The report saw the research team work with residents of the London Boroughs of Lambeth, Southwark and Westminster, along with policymakers, charities and grassroots organisations, to better understand the impact of the cost-of-living crisis and how to mitigate the worst effects of it.
Dr Wojciechowska said: "Whilst the term 'cost-of-living crisis' first came into public consciousness in 2021, the residents of Lambeth, Southwark and Westminster that we worked with tended to understand the crisis as a more deeply rooted social problem: a chronic underinvestment in society.
"While there was wide recognition that events such as the conflict in Ukraine, COVID-19 pandemic and Brexit had contributed to rising costs, many saw the crisis as having deep and enduring roots, attributing it to the result of an accumulation of political choices made over several years, particularly austerity."
Lead researcher on the Breaking Point report was Suzanne Hall, with Tianne Haggar, Kirstie Hewlett, Hannah Piggott, Zara Regan and Rachel Hesketh also part of the research team.
You can find more coverage of the summit published by the Evening Standard here. The report was also covered by the BBC here.
Read more...
You can read the report in full here.
In this story