20 May 2021
Advancing a feminist Covid recovery: reflections from Canada
Carmina Ravanera and Anjum Sultana
It is essential that governments around the world centre women and underrepresented groups in their Covid recovery plans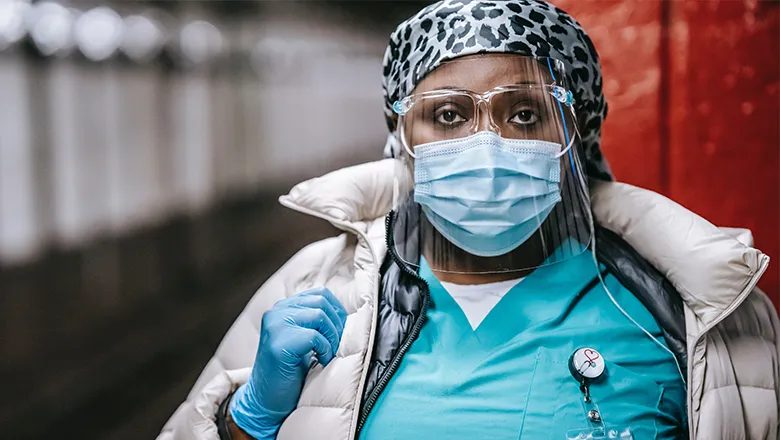 This past year has shown us that we have a window of possibility to not simply recover from the pandemic, but to transform our society and economy to prioritise care and community.
It was 50 years ago that women from across Canada came together to highlight both the struggles they faced in an unequal society and the solutions necessary to drive gender equality. In 1970, the Report of the Royal Commission on the Status of Women in Canada marked the first time that feminists nationwide boldly called for a national early learning and childcare system, along with several other recommendations to support gender equality. The 12 pillars of the 1995 UN Beijing Declaration and Platform for Action on Gender Equality similarly provided a roadmap, on a global scale.
Since these objectives were put forward, advocates, policymakers, researchers and social movements have worked collaboratively to push towards this vision for a more gender-just world, with each generation successively building towards human rights and social justice for all. When looking at these landmark documents, it is clear that if the investments and actions called for decades ago had been taken up, we may have had a stronger foundation to withstand the challenges of the Covid-19 pandemic. A lesson learned here is that creating gender-just societies can lead to gains that will be realised in our lifetimes and beyond.
That brings us to the current moment. Half a century on, we are the closest we have ever been to some of these recommendations becoming a reality in Canada. While the Covid-19 pandemic has unravelled much of the progress in gender equality made over the last few decades, it could also provide the policy window to break through the political gridlock that has plagued conversations about national childcare and other policies for gender equality. The pandemic is unprecedented in its scope and magnitude of impact, but it is not the first pandemic we've faced as a nation. What was true during the 1918 Spanish flu pandemic is true now: in times of crisis, we need care and community more than anything.
Soon after Covid-19 struck, it was clear that it was not affecting people across Canada equally. Women; Two-spirit and gender diverse people; Black, Indigenous and racialised communities; those experiencing low income; immigrants; and people with disabilities have faced the brunt of economic downturn and health risks.
By the summer of 2020, the participation of women in the Canadian labour force had returned to what it was in the 1980s. Women, who disproportionately take on unpaid caregiving, were leaving work to look after their families when schools and childcare facilities closed. There was an alarming rise in the rate of gender-based violence due to quarantining. Racialised and immigrant women, who are concentrated in frontline care jobs such as personal support workers – jobs which often do not have paid sick leave – were contracting Covid-19 at higher rates. Many communities across the country, especially Indigenous communities and those in rural and remote areas, did not and still do not have access to clean water and affordable, quality housing to allow for safe quarantining.
In response to these impacts, we wrote A Feminist Economic Recovery Plan: Making the Economy Work for Everyone, a joint project of YWCA Canada and the Institute for Gender and the Economy at the University of Toronto. This was the first national feminist economic recovery plan. It provided policy recommendations for all levels of government with the aim of creating a resilient recovery and preventing these adverse effects of the pandemic on women and other marginalised groups from happening again. Its eight pillars included addressing the root causes of systemic racism; combating gender-based violence; valuing unpaid care work; and investing in good jobs. Some of its 27 recommendations involved investing in national affordable childcare, legislating paid sick leave for all workers, ensuring diverse voices in policymaking, and creating a national action plan against gender-based violence. It was built on research and advocacy by communities and organisations across the country and around the world, including the first feminist economic recovery plan from the Hawaii State Commission on the Status of Women.
Alongside the advocacy of other organisations, our plan was heard across the Canadian policy and political landscape. The YWCA federation organised in communities nationwide to make the need for a feminist recovery undeniable. During the Speech from the Throne in the fall of 2020, the Governor General announced the Canadian government's plan to create an Action Plan for Women in the Economy, and its commitment to a feminist, intersectional response to Covid-19.[viii] We saw many of the recommendations and policy directions we outlined in our recovery plan echoed in Canada's Fall Economic Statement.
Although understanding of the need for a feminist recovery is growing, there is still a long way to go. At the time of writing this, Canada's Federal Budget for 2021 has not yet been released, but a few of the "guardrails" being used to guide fiscal and monetary policy for the future are focusing on job recovery numbers and GDP. However, these may not paint the full picture of a resilient recovery. We need to see that jobs that are coming back are providing decent work and that GDP is being distributed equitably. We also need to look to indicators that signify different kinds of progress. For example, have poverty rates reduced? How are we valuing the unpaid and paid care work that is disproportionately done by women? Have rates of gender-based violence reduced?
As countries around the world vow to build back better, governments and leaders must understand that unless their recovery policies centre women, girls, Two-Spirit and gender-diverse people, any recovery will be ineffective because it will not address the inequities that have been laid bare during this crisis.
This time has been one of profound change and uncertainty. The question remains: will it be a time of transformation? And what do we want our legacy to be in the future? For us, a society and economy grounded in care and community point the only way forward.


Carmina Ravanera is a Research Associate at the Institute for Gender and the Economy (GATE) at the University of Toronto and Co-Author of "A Feminist Economic Recovery Plan for Canada: Making the Economy Work for Everyone".
Anjum Sultana is the National Director of Public Policy & Strategic Communications at YWCA Canada and Co-Author of "A Feminist Economic Recovery Plan for Canada: Making the Economy Work for Everyone".