25 October 2018
Exhibition of work from artist-academic collaborations launches at Bush House
King's experts and artists-in-residence showcase the work from their creative collaborations in new exhibition.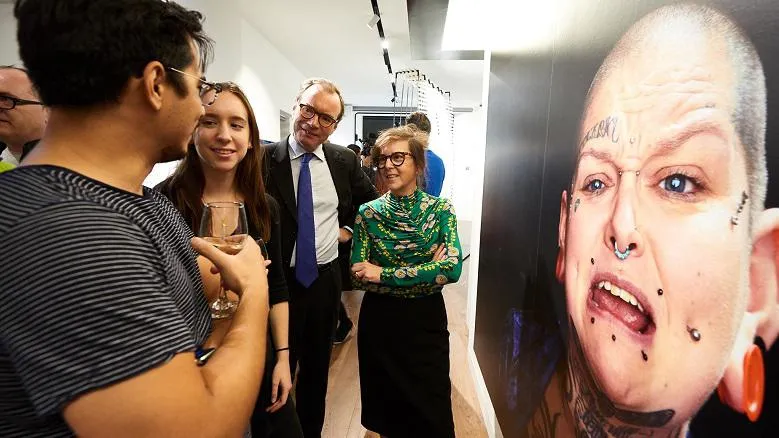 King's Artist Teresa Albor with visitors at the launch of King's Artists – new thinking, new making.
King's Artist Teresa Albor with visitors at the launch of King's Artists – new thinking, new making.
An exhibition of the creative work from collaborations between leading King's academics and six contemporary artists opened this week in The Arcade at Bush House. 
The collaborations have been facilitated as part of  King's Artists,  a ground-breaking project which enables artists to develop their practice in parallel with academic research.  
This year's programme has seen artists working with experts in the departments of Social, Genetic & Developmental Psychiatry, Informatics, Addictions and Classics. 
The exhibition, which is free to attend, brings together the six resulting projects from the partnerships, and includes artworks, installations and performances. 
These innovative projects interrogate our collective futures in a variety of ways, exploring new opportunities to engage in the world through digital and AI technologies, as well as investigating creative methods to open dialogues around sensitive subject matters, such as addiction and mental health.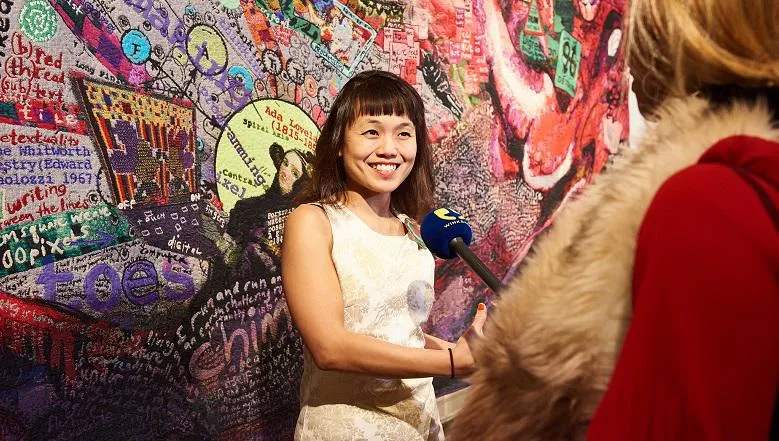 Artist, curator and researcher Dr Kai Syng Tan worked with Professor Philip Asherson in the Department of Social, Genetic & Developmental Psychiatry.
Unconditional  is the result of a collaboration between Professor Sir John Strang  and Dr Sally Marlow  from the Department of Addictions at King's, and Teresa Albor , multidisciplinary artist. This sound, video and visual installation is based on conversations with heroin users and the scientists who work with users and their families. 
Speaking on the value of working with an artist, Dr Marlow said: 'It's interesting being an addictions and mental health researcher, because there's a long history of archetypes and stereotypes when it comes to arts and mental health, and when it comes to arts and addiction. To work with a resident artist over a long period of time helps blow some of those stereotypes out of the water as you start to find new ways to think about things. 
'Science can be and should be creative, but sometimes you lose track of that and working with an artist makes you think a little differently. One of the things for me that has been absolutely fantastic about this collaboration is that artists are well known for being curious in some circles, and scientists are well known for being curious people in other circles, but both circles don't see the curiosity in the other.'  
'It's been really interesting to work with somebody and actually try and work on the same question. Question, what is addiction? What is it like for the person? What is their relationship with the drug? What is the relationship that they have with the people around them? This residency allowed us to do that.' 
Teresa found that the university-based residency provided opportunities she hadn't found in her career as an artist before:  
'King's College London  made it possible for me to do the work I wanted to do. King's served as a kind of lab, literally and figuratively, where I could make these documentations – sometimes really small, just showing on an iPad, sometimes sound pieces above in the microwaves in the cafeteria in the Institute of Psychiatry, Psychology & Neuroscience. The campus is full of staff and students who are thinking about the issues we were interested in. We were able to surprise them with bits and pieces of work throughout the residency. 
'The residency allowed me to consult more broadly with people from different disciplines. I do collaborate a lot, but usually with fellow artists or with people who don't often have a voice, such as women in prison, or inner-city teenagers... but to talk to people who are experts in academic and clinical disciplines as a way of informing myself, that was a new process for me in terms of making art.'
Visit King's Artists – new thinking, new making  at The Arcade in King's iconic Bush House until 15 December 2018. Open Monday – Saturday, 10.00 – 17.00.