23 June 2023
'Be brave and keep going' this International Women in Engineering Day
Learn about the experiences of our female King's engineers on International Women in Engineering Day 2023.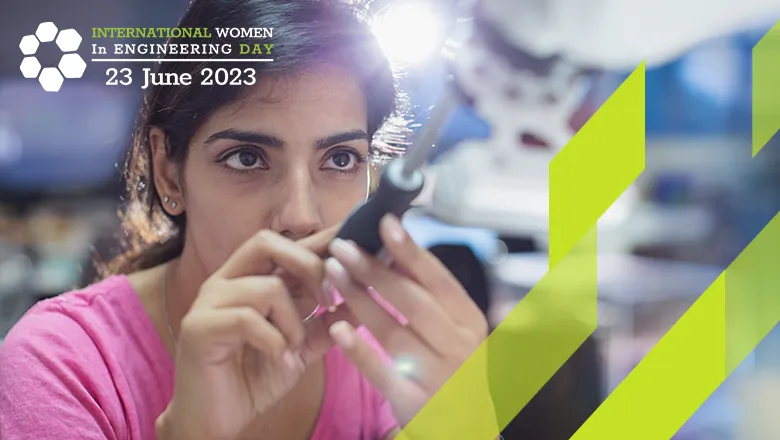 "Be confident in your ideas and thoughts and believe in yourself. Be brave and keep going."

Dr Naseem Ramli
It's strong advice from King's Dr Naseem Ramli for anyone pursuing education or a career in Engineering - but it's extra pertinent advice when it comes to women and non-binary people. Women are still hugely under-represented in Engineering, with 2021 figures indicating that only 16.5% of engineers are women in the UK.
We spoke to Dr Naseem Ramli, Lecturer in Engineering Education in King's Faculty of Natural, Mathematical, and Engineering Sciences and EDI lead for Engineering, and Engineering PhD Emelia Delaney for International Women in Engineering Day on 23 June 2023. They talked about their experiences as women in engineering, and how we can move the dial to ensure there's room for women and non-binary people to grow and develop their own journeys in engineering.
Dr Ramli's experience in Engineering started at an early age. Her father is a civil engineer by profession, and she credits him with her passion for the subject: "He is my inspiration…for choosing engineering as a path for my career."
He encouraged her and, during her time at secondary school, she was also able to study intensive mathematics and physics, including electric circuits.
This early encouragement gave her a strong foundation and fundamental drive to pursue higher education studies in electronic engineering.
This wasn't the same for Engineering PhD student Emelia Delaney, who we spoke to in March for International Women's Day. For Emelia, it was the male students in her class who were pre-destined for an engineering career – and higher education didn't feel like an option.
She said, "the biggest gap I found was pre-university education. When I was picking my A-levels, and GCSES, at that time, I was the only girl in around 30 boys in the engineering class.
"It was very much pushed from my community to do apprenticeships...higher education wasn't really explored."
Nevertheless, Emelia continued her education, but it wasn't until she met her supervisor during her undergraduate degree that she was experienced a more women-focused engineering space. And now – when it comes to women in higher education – she can see "more ambition there and more potential for long-term, exciting careers."
While Emelia began to feel liberated as a women in engineering when she came to university, it's not to say it's been an easy path to follow for either woman. Naseem's path to her PhD in Computing and Electronic Systems and her professional career has also had it's challenges.
"There are some barriers for a woman pursuing a career in a male-dominated field," she said. "It can be challenging to be in the minority, which can lead to a lack of confidence due to feeling out of place and like you don't quite fit in. I learned that diving into my responsibilities by working hands-on and learning about the industry, helped me to develop important skills and build confidence."
Dr Ramli was also proactive in ensuring she was included in group activities, rather than waiting to be invited. This took time for her adapt to this mindset, but it was definitely worth it:
"If this area of study was not perceived as predominantly male, I think young girls would be more enthusiastic to test their abilities in STEM fields. This career path naturally intrigued me; however, I also had family and friends helping build my confidence to overcome any stigmas about females in the engineering field."

Dr Naseem Ramli
There's hope for the future, and Naseem is keen to be part of the solution for encouraging more women and non-binary people into Engineering - but the journey has to start from childhood, and there's a huge role for parents to play.
"Parents can teach their young daughters to question the world around them," she says. "Even the toys children play with can be used for this purpose. Educational toys, such as coding robots enrich children with life skills as well as the tools to excel in STEM subject."
In order to make engineering education and careers more equitable to women and other marginalised groups, there's a lot that educators and industry leaders need to do.
Dr Ramli's ideas include inclusive planning and design in the engineering workforce, which can improve opportunities and life chances for female engineers, and increasing diversity in recruitment. Promoting work-life balance, creating an inclusive and welcoming environment, and providing mentorships for all will make change real.