24 July 2023
Bringing evidence and policy closer with the King's Parliamentary Research Internship
Lesley Williamson
It is a phenomenal opportunity to broaden your awareness of parliamentary processes.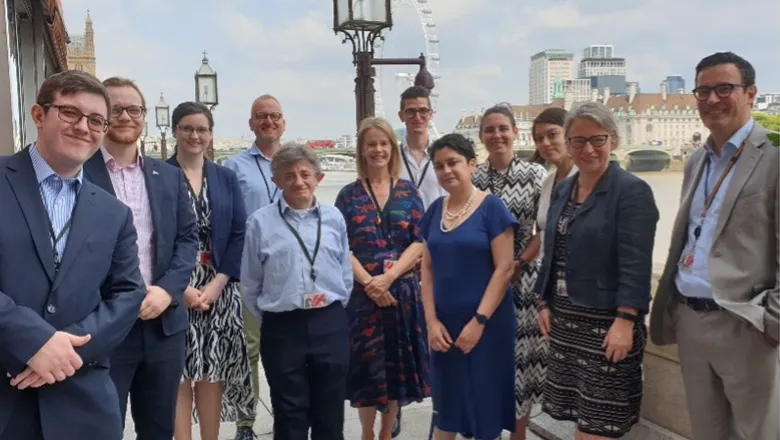 The excitement of walking into the Houses of Parliament with a flash of my pass was never lost in the 10 months of working as a King's Parliamentary Research Intern. Wandering the halls (while frequently getting lost), feeling awed by the history, architecture, and grandeur, and glancing probably too long at people I recognised from the television: at times it felt a surreal experience. Ultimately it was not only a privilege to work for a peer in the House of Lords, but an inspirational experience that accelerated my understanding of how to bridge the gap between evidence and policy.
The King's Parliamentary Research Internship Programme is an opportunity for PhD students and postdocs at King's to engage directly with the inner workings of central government and policy. Interns are matched with peers and, working seven hours a week for 10 months, they have opportunity to observe and, indirectly, contribute to the Lords proceedings. I was very fortunate to have been assigned to work for Crossbench Peer Baroness Watkins of Tavistock, whose areas of focus include mental health, housing, and the nursing workforce.
What does a King's Parliamentary Research intern do?
Interns' experiences will be different and very much determined by their peers' scope of work. My fellow interns were involved in organising conferences and founding all-party parliamentary groups (APPGs). These activities reflect the huge diversity of work that goes on every day in the House of Lords, and, on occasion, well into the night.
As a healthcare professional completing a health science PhD, it was timely that my internship coincided with the passing of  significant health and social care legislation, which Baroness Watkins was closely involved in. I was given the opportunity to observe closed meetings between peers discussing amendments, to produce evidence briefings on topics relevant to the bill, and I even helped to write some of the speeches that Baroness Watkins delivered during proceedings. Aspects of the legislation were of both personal and professional interest to me and had direct links to my PhD. Being involved in this way therefore prompted me to reflect on the direction of my own research and where it sat in the wider policy context. The experience was invaluable in developing my understanding of how evidence, and different types of evidence, can be used to inform parliamentary decisions.
I was also very fortunate to have opportunities to review and feedback on APPG reports and attend parliamentary receptions and research briefings. Not only did these experiences provide an opportunity to hone my networking skills, but I was able to feed the experience into my learning around research impact. I started to redefine what I understood evidence to mean, how evidence informs recommendations for change and how these recommendations are shared with policymakers.
As part of the internship, all interns also are given a mentor from the Policy Institute. I cannot stress enough how valuable this mentorship was for me. I had space to explore my career aspirations and was able to make sense of my experiences of the internship and my PhD journey, informing how I am approaching my thesis. These discussions complemented a workshop that the Policy Institute hosted for interns, which consolidated learning from their e-learning training package, Impact By Design. I had a penny-drop moment in the workshop, which completely reframed my understanding of what research impact is and how its potential can be maximised.
Mind the gap?
Since the internship, I am more mindful of the knowledge-to-action gap that exists, and I better understand ways to enhance the potential for research to inform policy. I have learnt many things, but my top five lessons are:
Research impact is as much a process as it is a product of research. Research impact centres around nurturing authentic, trusting relationships with stakeholders – understanding them and responding to their priorities and pressures. For me, research impact as a process is less about the research and more about the relationships.
Policymakers need access to concise, quality-assured evidence, quickly. The pace at parliament is phenomenal, so evidence needs to be easily accessible in language and format. It also needs to align to peers' interests and priorities to make best use of their time (and researchers' time). It also needs to be quality-assured, as policymakers are relying on the evidence to inform high-risk decisions made at pace.
Knowledge brokers are key. Be they charities, think tanks, or individual advisors, knowledge brokers work between and within the academic and policy worlds, synthesising the evidence base, mediating knowledge exchange, and raising the profile of research findings to policymakers.
Make ripples, not waves. Bringing about real-life change is not so much about making big waves but about making constant ripples, pushing an agenda in different ways into areas of least resistance. Driving a central narrative keeps the evidence topical and may help to secure widespread commitment.
Timing is everything. It is important to develop a social and political awareness of research and to use political change and commitments as a "hook" for research dissemination. Of course, sometimes it is not possible to know what change will be enacted or how evidence will be used to inform policymaking, which underscores the importance of making constant ripples, sharing quality-assured, accessible evidence and having trusted relationships.
Considering applying? You won't regret it.
Although it was challenging at times to manage my internship commitments alongside a full-time PhD, it was a phenomenal opportunity to broaden my awareness of parliamentary processes and the research-policy interface, as well as build my skills, network, and CV.
I am hugely grateful to all those who have been involved in developing and running the internship, with special thanks to Baroness Watkins and my mentor, as well as my primary supervisor for her encouragement and support.
Find out more about the King's Parliamentary Research Internship Programme.
Dr Lesley Williamson is a Clinical Training Fellow at the Cicely Saunders Institute at King's College London.