05 April 2022
Building cyber resilience in a national and enterprise context
King's College London Cyber Security Research Group announce new thought leadership series event, 'Building cyber resilience in a national and enterprise context', in collaboration with Dell Technologies and 2020 Partners.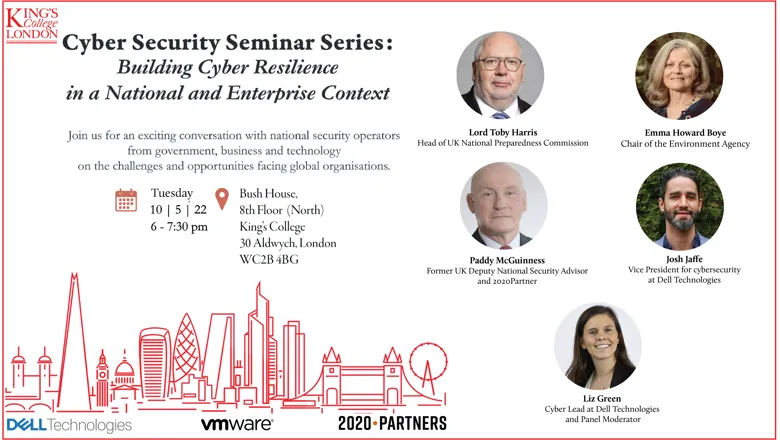 Building operational and cyber resilience at all levels has become increasingly important in recent years. Pandemics, military conflicts, and ransomware attacks have cast a new light on governmental and enterprise planning, and preparations for unanticipated scenarios. This panel will reflect on the lessons learned, the forward-looking requirements, and discuss practical proposals for improving cyber resilience across government and the private sector.
This is the first event in the series, exhibiting the important collaboration between King's College London (a world leader in cyber academia), Dell Technologies (hardware technology giant and generator of trusted cybersecurity solutions), and 2020 Partners (a collective of some of the leading cyber experts in the world).
An invited audience of students, academics, government officials and senior business managers will have an opportunity to hear the thoughts of, and post questions to, a panel of senior experts including:
Lord Harris, Head of the UK National Preparedness Commission
Emma Howard Boyd, Chair of the Environment Agency
Paddy McGuinness, Former UK Deputy National Security Advisor and 2020Partner
Liz Green, Advisory and Cyber Lead for Europe at Dell Technologies
Josh Jaffe, Vice President for Cybersecurity at Dell Technologies
Jaffe at Dell Technologies, comments: "We're currently navigating a critical time in cybersecurity history, and the topics being addressed at The King's College London are of fundamental importance. We're honoured to be a part of the conversation, and we're looking forward to the insightful discussions bound to come out of the series."
Dr Tim Stevens, head of the King's College London Cyber Security Research Group, said: "It is more important than ever that universities work closely with government and industry to address crucial cybersecurity issues. King's College London is honoured to be teaming up with Dell and 2020 Partners for this important initiative of cybersecurity education, awareness and problem-solving."
Not only will this series instigate insightful conversation for the current industry, but some of the world leaders in cybersecurity and technology are coming together to discuss and explore the future of cyber, providing a window of opportunity for the young, creative minds of The King's College London.
This will be a hybrid event, with online access available to registered participants. It will take place on 10 May 2022, between 18:00 and 19:30 (BST) at Bush House, Eighth Floor in the North Wing.
In this story