06 August 2018
Building your CV in your first year of University
In your first year of university it may feel like the real world is far off, but the recruitment process really starts earlier than you might think. This doesn't mean you need to stress about your work history, there are plenty of ways to gain valuable experience and build up your CV in your first year of studies.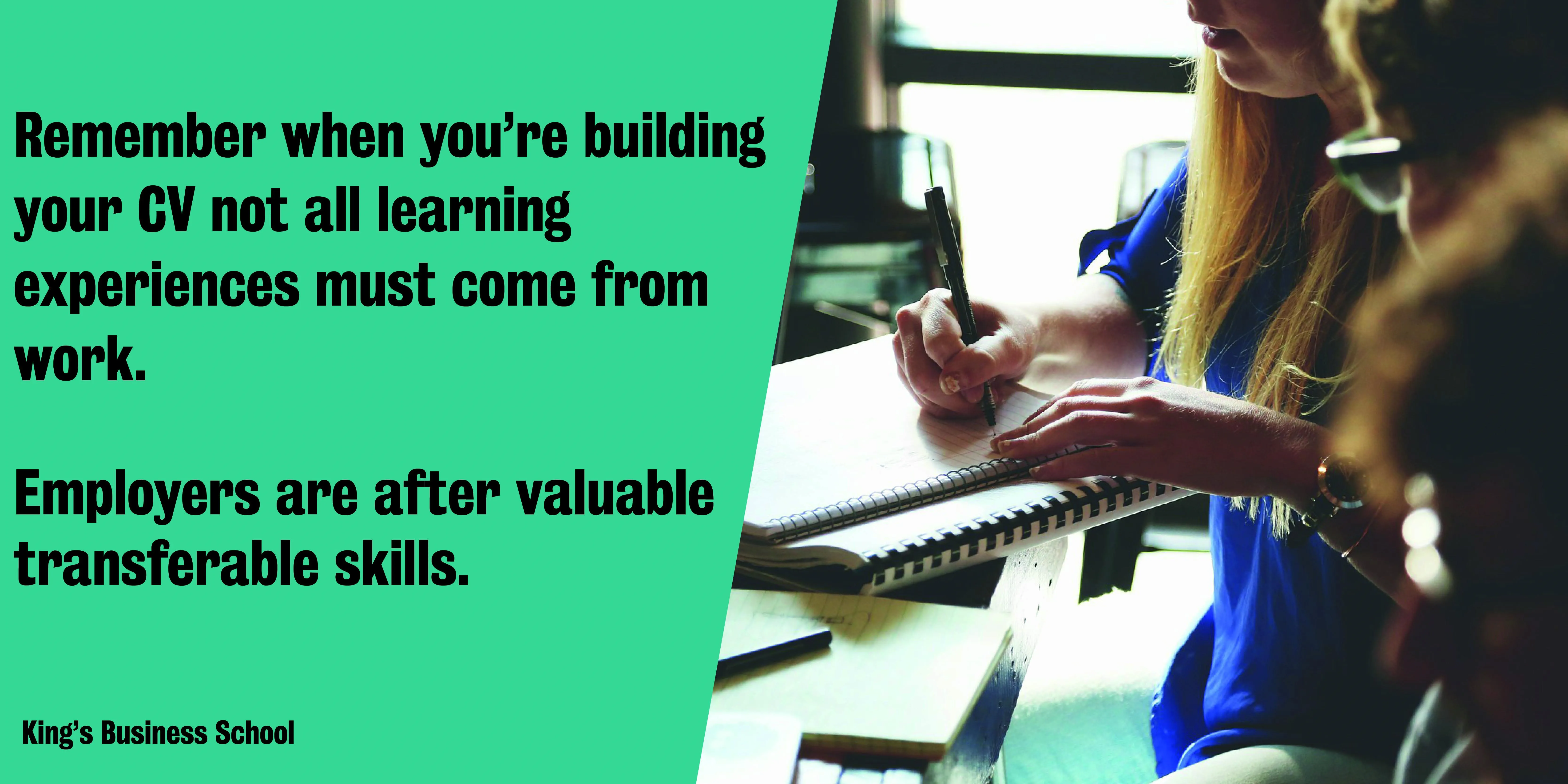 Building your CV in your first year of University
Become a society committee member
There are many different societies at King's that you can join based on your personal interests and hobbies. Being an active member in one of these groups will give you insight in business challenges and solutions, no matter what the society is related to. Make sure to highlight your involvement in the society and what you learnt, for example, building team work and organisation skills. If the society you wish to join doesn't exist, why not show off your entrepreneurial spirit and start your own.
The King's College London Business Club (KCLBC) put on weekly events for students, bringing speakers from all areas of business. Check out our interview with two KCLBC students who helped organise the 2017 London FinTech Conference - a student organised and focused annual conference bringing together the brightest minds in FinTech.
Volunteering opportunities
Take this opportunity to work for a cause you are passionate about. King's offers many opportunities for student volunteers or alternatively you could travel abroad to work as a volunteer in your holidays. Not only will volunteering give you valuable skills for your CV but it is also fulfilling and a good opportunity to network and make friends. You could also do your own fundraising, for example fundraise for a marathon, remember when you are building your CV not all learning experiences have to come from work. Your volunteering efforts show endurance and determination on your CV, skills businesses look for in future employees.   
Job shadowing
Job shadowing is when you learn about an area of business or role by walking through the working day with someone working in your area of interest. This is helpful for students who are unsure about their area of interest and would benefit from more exposure into the industry. Talk to a careers consultant who have ties with a range of businesses and can help you discuss what options are available to you.
Don't be afraid to also reach out to local businesses yourself. LinkedIn makes connecting with companies easy, you'll be surprised how willing people are to help. Make sure you communicate with businesses in a professional manner and insure your personal LinkedIn page up to date and informative. Check outour article anbout using social media and Linkedin professionally. 
If you are interested in job shadowing contact our career consultants through King's CareersConnect and book a meeting to discuss your options. 
Part time work 
You may not think you have relevant experience on your CV but in fact many employers look for transferable skills such as teamwork and problem-solving skills in their potential new hires.  Don't be discouraged that you don't have direct experience in your chosen sector, your part-time job will still be acquiring experience that will come in handy in the future. Make sure to use specific examples to demonstrate your transferable skills such as situations where you have had to manage other employees or deal with difficult situations. Working through university tells an employer you are hard working and can successfully manage your time.
Academic recognition and awards
Let your impressive academic record shine and highlight your academic achievements. There will be various opportunities to be offered prizes for excellent coursework and results. Your lecturers will let you know when opportunities become available. Highlighting achievements like these in your CV will help you stand out from other job seekers.
Become a student ambassador
On-campus student employment gives you the opportunity to earn money and gain experience when it works for you. The skills you gain from working as a student ambassador include organisation, leadership and oral communication skills. Working for your university shows future employers that you display and represent the values of the school. Another benefit of student employment is that it is flexible around your studies, if you are busy preparing for a test you can turn down an event or pick up extra work when needed.
Find out more about becoming a student ambassador at King's. Applications open 17 September 2018. 
For more information please contact: business@kcl.ac.uk