13 March 2018
Classics students Charlotte Ellery and Connie Bloomfield win original art competition
Classics students Charlotte Ellery and Connie Bloomfield have won the Modern Classicisms art competition, run by King's College London.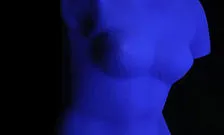 Charlotte Ellery's 'First Glance'
Congratulations to two of our students in the Department of Classics – Charlotte Ellery (first-year undergraduate) and Connie Bloomfield (postgraduate, in the first year of her PhD)! Charlotte and Connie were awarded first and joint-third prizes respectively in the 'Modern Classicisms' competition, open to all students and staff at King's and The Courtauld Institute of Art.

Connie Bloomfield's 'Venus Reconstructed'
Charlotte was awarded first prize for her stunning oil painting, First Glance. Connie's Venus Reconstructed was awarded third prize for her wonderfully creative take on Venus Reconstructed. Both entries are on display in The Classical Now exhibition in Bush House Arcade – alongside a selection of the 25 submissions entered into the competition. For further information see the brochure about the competition display.
The competition formed part of the 'Modern Classicisms' project, run in the Department of Classics. The display of competition entries was also run by two postgraduate students in our department ­– Belinda Porra Martín and Abigail Walker, who have worked as student ambassadors on the project.
The Classical Now is on show in Bush House Arcade and Somerset House East Wing until 28 April 2018.