30 May 2019
Coding and making our way to a better STEM future
School of Education, Communication and Society
KCL's Dr Heather King and Dr Elizabeth Rushton are currently conducting research in making and coding spaces across the capital.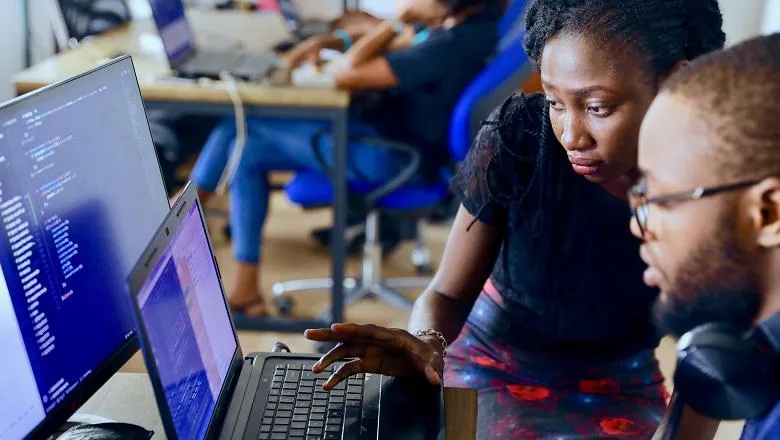 KCL's Dr Heather King and Dr Elizabeth Rushton are currently conducting research in making and coding spaces across the capital. Their aim is to better understand how to support youth engagement in these innovative and exciting programmes. The fieldwork is part of a three-year research project, COM n PLAY Science, which in 2018, received a grant of 3.1 million Euros.
COM n PLAY Science project
Data collected from the maker spaces is among that being used to help Europe better understand the new ways in which learning takes place during informal activities such as coding, making and gaming. Maker spaces are informal, creative spaces where people come together to invent, create and make. The target age group is young people aged 11-19 years.
The team working on the project hope to identify how to share the learning opportunities in informal settings and provide evidence for future policy making around equitable science engagement across Europe and beyond.
KCL's participation brings expertise around facilitating learning in non-school settings, and experience of implementing a science capital approach to teaching and learning with the aim of supporting more youth equitable engagement.
Dr Elizabeth Rushton, Research Associate, remarked:
'Understanding these spaces and the experiences they can offer is vitally important if we want to help more young people, from varied backgrounds, participate in science, technology, engineering and mathematics (STEM) now and in the future.'
Making and coding are emerging areas of interest for supporting engagement in STEM, and the COM n PLAY Science project hopes to draw on different European approaches and contexts to further understanding of this avenue for widening participation in STEM. In particular the research seeks to develop a policy 'roadmap' for Europe setting out the potential impact of coding, making and play-based informal science learning across the short, medium and long-terms.
Informing our MA STEM Education course
Findings from the project will also be integrated into KCL's new MA in STEM Education based at the School of Education, Communication and Society. The course begins in September 2019 and will include exploring the role of maker spaces, teaching on maker spaces and the nature of informal science activities such as coding and tinkering in STEM education.
Project contributors
The project brings together a consortium of institutions from across Europe and is co-ordinated by Prof Michail Glannakos, Norwegian University of Science and Technology.
Other consortium members include:
King's College London
University of Oulu, Finland
Foundation for Research and Technology, Greece
Eindhoven University of Technology, Netherlands
Uppsala University, Sweden
Technical University of Munich, Germany
University of Malta, Malta
Design for Change Initiative, Spain
The Science Museum Group
At King's College London Dr King is the Lead Researcher and Dr Rushton is the full-time Research Associate. Dr Rushton joined the CRESTEM Research Group, School of Education Communication and Society in April 2019 to work on the project for the next two years.
Further information
Full title: Learning science the fun and creative way: coding, making and play as vehicles for informal science learning in the 21st century.
Three-year project (1 June 2018 – 31/05/2021), funded by EU as part of their Horizon 2020. The full grant amount is 3.1 million Euros.
Website: https://comnplayscience.eu
Twitter: @comnplayscience
ResearchGate: https://www.researchgate.net/project/CoM-n-Play-Science
Contact email address: Elizabeth.rushton@kcl.ac.uk
In this story