27 October 2021
COP26: law school launches Climate Justice Month
Students and staff from The Dickson Poon School of Law will mark COP26, the United Nations Climate Change Conference, with a series of events highlighting the need for climate justice.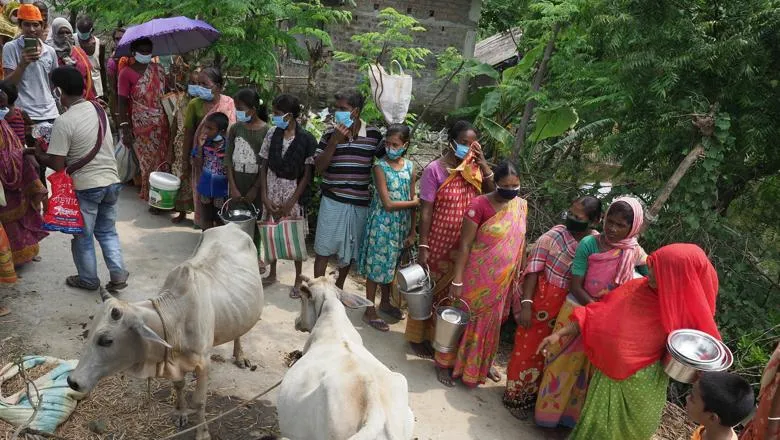 Flood-affected people gather to receive food at a relief camp in Sundarbans, West Bengal.
During November, staff and students from King's Legal Clinic will take part in two public events and a global day of climate action, focusing on legal solutions to issues in environmental law and climate justice. The events are also supported by the King's Climate Law and Governance Centre.
On 1 November, Sue Willman, Assistant Director and Supervising Solicitor at the King's Legal Clinic, and Dr Emily Barritt, co-Director of the Transnational Law Institute, will join a panel of experts to discuss the Clinic's new partnership project, looking at the impact of rising sea levels on people in the Sundarbans.
The Sundarbans region, which spans the India-Bangladesh border, is a low-lying delta region, home to over 4 million people, which has seen its traditional way of life threatened by rising sea levels. Students will look at the steps required to mitigate and adapt to climate change and what global investors should be doing to protect the human rights of those living in regions like the Sundarbans.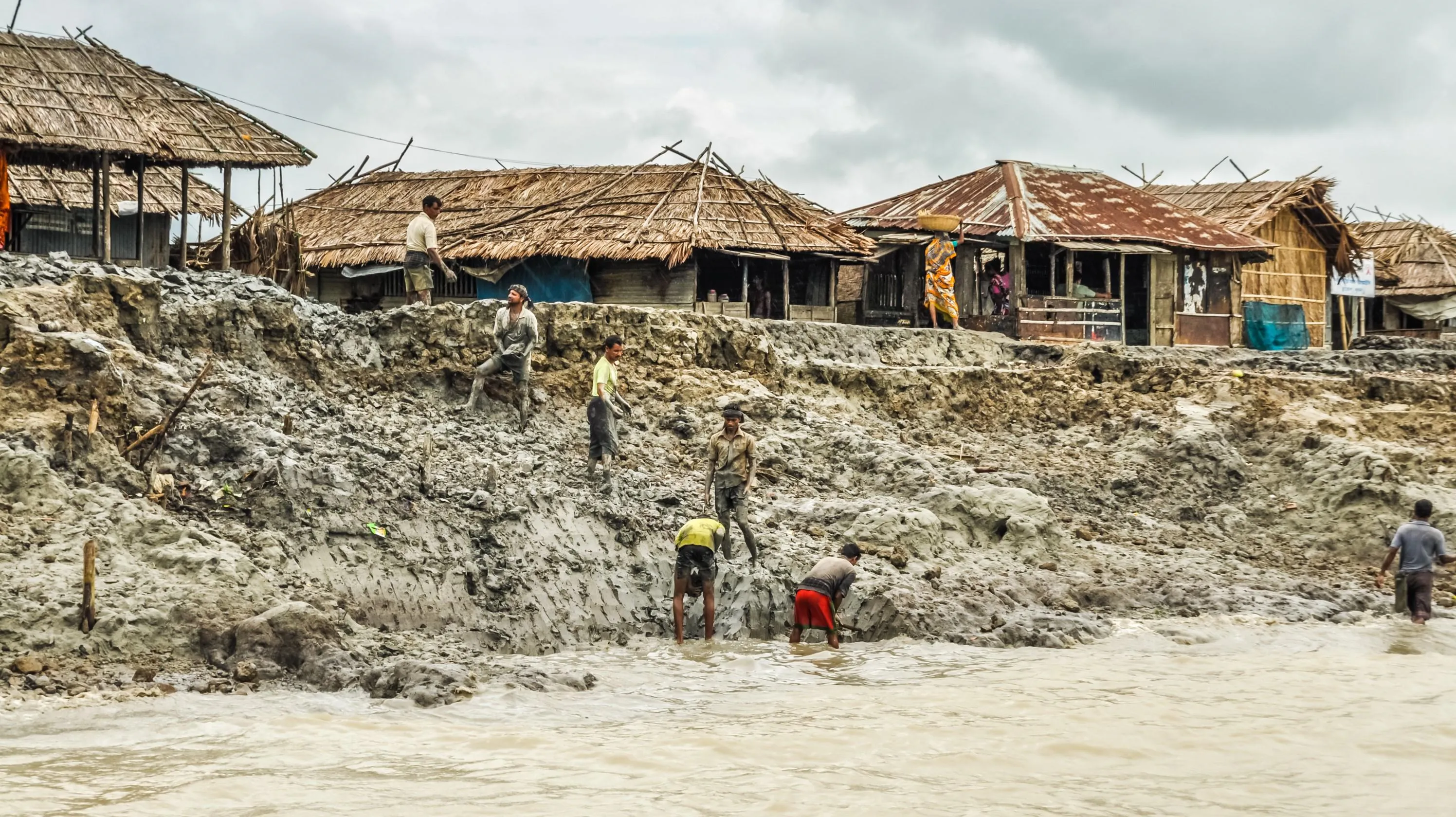 Men work in mud near their houses in Sundarbans, Bangladesh,
Sue Willman: "We've chosen the Sundarbans because it's such a compelling example of how our reliance on fossil fuels, in general, is having an adverse effect on certain communities.
"From a UK perspective, the impact of climate change might seem remote, but if you are in the Sundarbans you may already have been forced to abandon the land your family has farmed for generations. You might need to leave the area entirely – we are already seeing climate refugees, with families leaving the Sundarbans to move into crowded flats in cities like Kolkata, to work in factories and low-paid jobs.
"Through this project, we can highlight these direct impacts of climate change to people in the UK."
The Sundarbans project is a partnership with staff and students from Jadavpur University and West Bengal National University of Juridical Sciences, and Krishnendu Mukherjee, a barrister from Doughty Street Chambers. The event will hear the first-hand account of a member of the Sundarbans community displaced by climate change, alongside experts in law and climate science from the partner universities and former Indian Supreme Court judge Rt. Hon. Justice Madan B Lokur. The panel will be chaired by The Rt. Hon. Lord Carnwath of Notting Hill.
The Legal Clinic is also co-organising another event, How can law clinics adapt to tackle climate change? Thinking globally; acting locally. King's students Sara Al Khashlok and Amanda Ignatia will be collaborating with students from York and Strathclyde universities. A keynote address will be provided by Alex Goodman of Landmark Chambers.
Amanda Ignatia, one of the Clinic's Student Directors, said: "Climate change is already here and it's disproportionately affecting some of the most marginalised communities in the world. These people don't have access to large law firms, so it's important to think how we, as King's Legal Clinic, can help.
"Through the Clinic we've had the opportunity to work with non-governmental organisations. It's crucial that we listen to the people already feeling the impact of climate change, asking how we can help rather than imposing our own idea of what needs to happen."
This event is being hosted by Strathclyde University in partnership with King's, University of York and the Clinical Legal Education Organisation (CLEO).
In 2019, King's Legal Clinic signed the Law Clinics' Pledge for Climate Change which committed the Clinic to "raising awareness of the issues of climate change in our teaching, research and activism; and to finding ways to support law students to contribute to the struggle for climate justice."
In line with this pledge, on 17 November, students from the Clinic will also be marking the 2021 Student Law Clinic Global Day of Action for Climate Justice. The theme this year is plastics and plastic pollution.
Students from The Dickson Poon School of Law are also planning a climate change-related event on 17 November with speakers from ClientEarth and Landmark Chambers.
Amanda Ignatia: "We're hoping to bring in external experts to look at European Union regulations and ask if they are adequate. If they're not, how can we remedy that? We will be looking for creative legal solutions."
In the final week of November, King's Mooting Society will also be staging an environmental law moot, bringing to a close a month of positive action on climate justice.
Amanda Ignatia: "Things are changing and it's not just confined to law. It's really interesting to see how individuals, countries and businesses are adapting.
"There's so much interest from young people in these issues. Every time we put out calls for help with the human rights and environmental law clinics, we get a great response.
"We need to keep working and stay optimistic!"
The following online-only events are open to the public:
In this story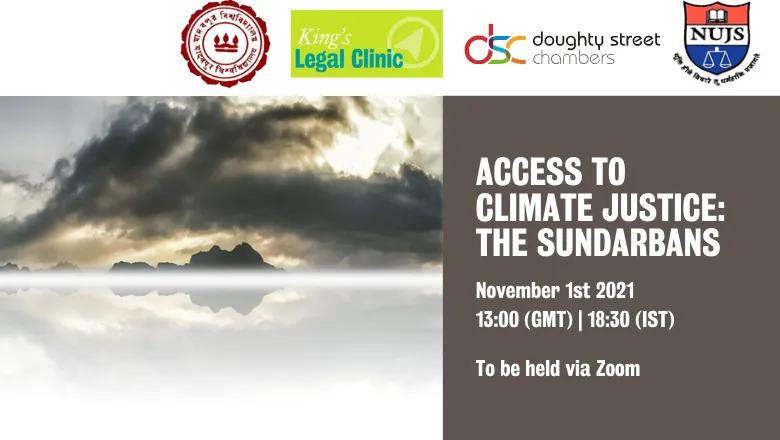 This event launches a new project which is a novel UK-India partnership of King's College Legal Clinic and Doughty Street...