13 May 2021
COVID-19 Support for India
With India particularly hard hit by the COVID-19 pandemic, the King's India Institute community has put together a list of ways in which we can help with the crisis.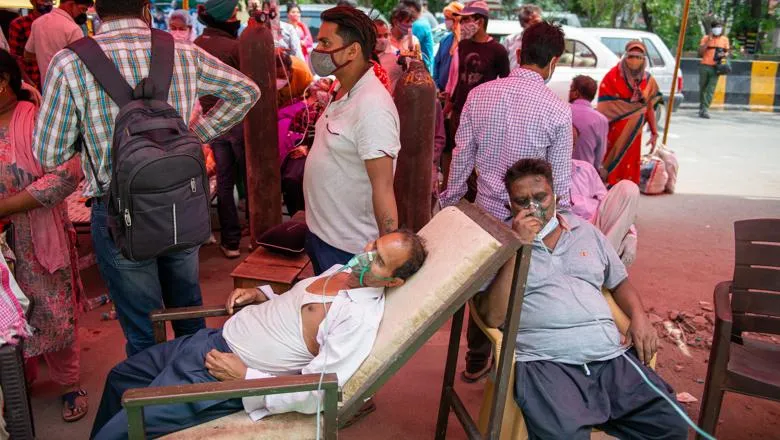 As the lockdown lifts in many parts of the world, the second wave of Covid-19 in India has hit hard. As many of you might be aware, the scale and intensity of suffering brought about by the pandemic in India, is unforeseen. In these challenging times we at the King's India Institute have been trying to find meaningful ways to extend care and support to the people of India. This webpage summarizes some of the ways in which we can be in solidarity with the people of India from afar, and urges you to contribute in any way you can.
Through our conversations with students, alumni, friends, and collaborators we have identified the following arenas for engagement:
Short-term and urgent provisioning of healthcare supplies
The most immediate impact of the pandemic is being felt through acute shortage of oxygen across cities and towns in India. This is accompanied by a shortage of key medical equipment for home-based treatment such as oximeters, thermometers, medication etc. The following organizations/networks/campaigns are working on the ground to make these provisions available to affected people.
KhalsaAid - International non-profit active in oxygen provisioning and emergency medical assistance around Delhi and National Capital Region; approved for foreign donations
Working Peoples Charter - Focused on migrant and informal sector workers who are stranded in cities or otherwise unable to access medical care and subsistence; Active in Mumbai, Pune, Jaipur, Delhi, Allahabad, Telangana, Andhra Pradesh; approved for foreign donation.
Doctors for You - Medical support and awareness campaign; Active in Bihar, Maharashtra, Kerala, Haryana, Rajasthan; approved for foreign donation
Salaam Baalak Trust - Focused on relief and care for street children; Active in Delhi; approved for foreign donation.
Sarv Seva Niketan - Comprehensive covid support in Begusarai district of Bihar, to 229 panchayats and 2.9 million people - through partnership with youth volunteers, district administration and ASHA workers.
Long-term rehabilitation from loss of livelihoods
As we saw in 2020, the lockdown imposed in India led to a mass exodus of informal sector workers from the cities to rural areas. Loss of livelihoods and precarity of life are set to get worse with the unfolding second wave. In the absence of a robust social security net, many of these households face a long-term setback in terms of income, access to sufficient nutrition, healthcare and education. The following organizations have a track record of supporting such communities in rural India and are engaged in facilitating comprehensive rehabilitation.
Aajeevika Bureau - Welfare support and legal aid to migrant workers; Active in Rajasthan (north India); approved for foreign donation.
Kala aur Katha - Home - Supporting Dalit and Adivasi handloom weavers in rural Odisha; Active in Jagatsinghpur, Jajpur, Cuttack, Koraput, and Rayagada.
Visthar - Supporting migrant workers from rural Karnataka through food provisioning and children's education; Active in Bangalore; Approved for foreign donation
On behalf of the King's India Institute community we thank you for any support you can provide and hope for the situation to improve swiftly.