11 November 2015
Dr Max Edling wins John Phillip Reid Book Award
Congratulations to Dr Max Edling, Reader in Early American History, who has been selected for this year's John Phillip Reid Book Award for his book A Hercules in the Cradle: War, Money, and the American State, 1783-1867.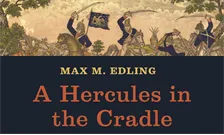 Dr Max Edling, Reader in Early American History, has been awarded this year's John Phillip Reid Book Award for his book A Hercules in the Cradle: War, Money, and the American State, 1783-1867 (University of Chicago Press, 2014).
In his book, Max M. Edling explores the connections between public finance and power in the American state from the time of the founding to the aftermath of the Civil War.
About the award
Named for John Phillip Reid, the prolific legal historian and founding member of the Society, and made possible by the generous contributions of his friends and colleagues, the John Phillip Reid Book Award is an annual award for the best monograph by a mid-career or senior scholar, published in English in any of the fields defined broadly as Anglo-American legal history. The award is given on the recommendation of the Society's Committee on the John Phillip Reid Book Award. 
Edling's marvellously insightful book explains the legal, political, and economic foundations of the early republic's ability to tax, borrow money, wage war, and increase its territory.  Edling shows that debt following independence and the pressing need to raise money in a more effective manner than possible under the Articles of Confederation shaped constitutional design and, specifically, the tax power.  His contributions go well beyond legal history per se.  Historians of Europe and historical sociologists have long argued that "war made the state."  Edling expertly applies this research tradition to the United States between the Revolution and the Civil War as the new nation developed a more robust state.  He explains that the United States by virtue of its geographic advantages faced lower security costs than the European powers, so it did not need to remain constantly on a war footing.  Yet, crucially, it constructed in 1787-91 a tax-collecting and borrowing capacity similar in operations and legitimacy to that of Britain.  This combination helps explain how the United States could repeatedly expand its territory and wage the Civil War to a successful conclusion.  Edling makes very good use of comparative history.  He contrasts the financial burdens, resources, and trend lines in the United States with those of Great Britain, Continental European powers, and Mexico.  As he does so, he is attentive to the particularities of the United States' situation: for instance, state's rights ideology, which acted as an ideological and institutional constraint on federal fiscal authority.  Deeply researched, marrying quantitative analysis with institutional history, alert to micro-level political strategizing, Edling's work will be required reading not only in legal history, but in a number of other fields: foreign relations, comparative state-building, and the histories of taxation, military affairs, imperialism, and westward expansion.
John Phillip Reid Book Award committee
Max Edling is an expert on the American founding and early United States. A native of Sweden he did his undergraduate studies at Lund University before earning an MPhil degree from the University of Dublin, a PhD degree in history from Cambridge University and a PhD degree in political science from Stockholm University. He was awarded the Docent degree by Uppsala University in 2012. Before joining King's in 2012 Edling taught at Uppsala University and Loughborough University. Edling has been visiting professor at Cornell University and Stanford University. 
Max Edling is a board member of the European Early American Studies Association, which everyone interested in North American colonial history and the early U.S. republic is welcome to join:http://www2.warwick.ac.uk/fac/arts/cas/eeasa/
Edling is on the editorial board of the Journal of Early American History and American Political Thought: A Journal of Ideas, Institutions and Culture.
Edling has written popular essays and reviews in American history in Swedish and occasionally in English, something he would like to do more in the future.His essay on the financing of the Mexican War, 1846-1848 can be read at http://www.common-place.org/vol-09/no-01/edling/ 
In this story