28 June 2023
Ensuring the safe and humane treatment of prisoners
Abbie Russell, Volunteer Engagement Officer
King's Food Retail Manager Lisa Connellan has taken up an important volunteering role on the Independent Monitoring Board for Prisons.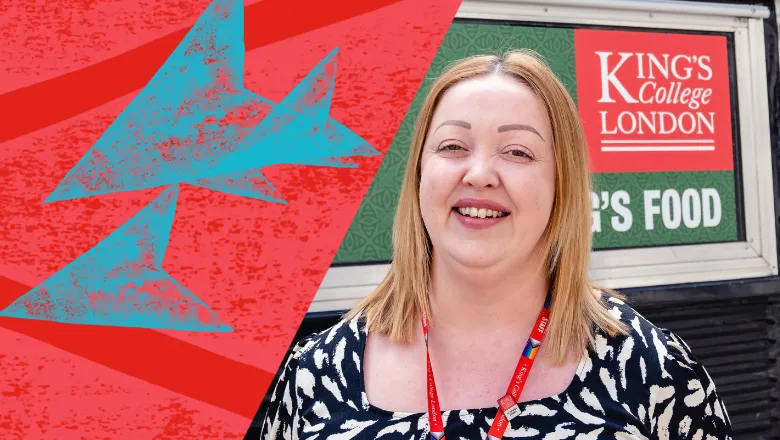 Having undertaken several casual volunteering roles over the years, Lisa Connellan decided it was time for a new challenge.
"I wanted to do something that makes best use of my skills and experience, gives me the opportunity to learn, and ultimately make a difference to society."
She had previously worked for a charity and had an interest in, and a good understanding of, trustee boards.
"I participated the King's Board Bank event, followed by the masterclass, which helped me decide what was important to me and what I'm really passionate about."
King's Board Bank, run in partnership with Getting on Board, is a programme designed to support King's students and staff to become charity trustees. It is one of the ways that King's Volunteering works with community partners to drive positive change.
Volunteering as a trustee on a charity board is a great way to support a cause you are passionate about, while gaining leadership experience, cross-sector skills and exposure to new environments that can help enhance your own career and wellbeing.
"I received advice about tailoring my CV, how to apply for volunteering positions, and where to find opportunities. This led me in a different direction, away from trustee boards, but that's not a bad thing as it helped me cement in my mind the direction I wanted to take."
Taking part in the Board Bank helped Lisa to discover the Independent Monitoring Board (IMB) for Prisons - a volunteer position appointed by the Secretary of State to monitor and report on whether prisoners are being treated fairly and humanely and whether they are being given the support they need to turn their lives around.
Few people have ever visited a prison, meaning it is a unique and challenging environment.
Through her role, Lisa has completely unrestricted access to all areas of the prison, all staff, records, and prisoners.
"Whether its interacting with prison leadership, speaking to and helping prisoners 1:1 or writing recommendations and annual reports, it's given me experiences and helped me develop a new set of skills that I have no doubt will help me in all parts of my life."
"I would encourage everyone to take time to find the right volunteering opportunity for them, where you can get that warm fuzzy feeling from knowing you have made a difference, but also something that excites and drives you."
Service Time
All staff employed by King's can choose to spend three days (21 hours) of Service Time per year doing voluntary work for another organisation or volunteering scheme, regardless of what role they have. This Service Time (internal link) is part of our commitment to support and enable colleagues to undertake community activity beyond the university.
Feeling inspired?
King's Volunteering is your one-stop shop for discovering opportunities and building connections with people and organisations that are driving positive change in our local, national and international communities.
From one-off events to regular volunteering opportunities, there's something for everyone. Whether you are passionate about the environment, education or mental health, King's Volunteering can connect you with an organisation and a cause that's right for you.
We all have our reasons to volunteer, whether it's advocating for a social issue, gaining new skills, improving our wellbeing or meeting new people. Whatever your motivation, sign up to King's Volunteering to connect, discover and make a difference.
King's Board Bank
The King's Board Bank will be relaunching in September/October 2023. Find out more about King's Volunteering programmes online.