04 April 2022
The Neuroscience of Entrepreneurship: Research to Practice
Emily Clements
Recently, I spent 2 hours with a group of scientists working to turn themselves from researchers to entrepreneurs.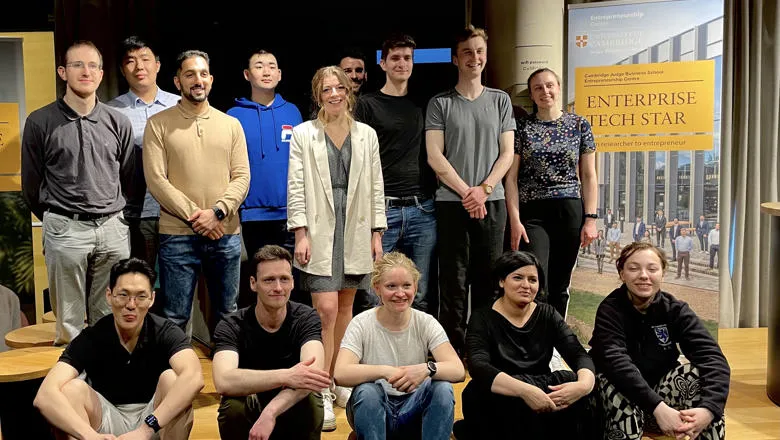 I was invited as an informal mentor and speaker on the EnterpriseTECH Star programme at Cambridge Judge Entrepreneurship Centre. I got to share the key insights from my research in the Neuroscience of Entrepreneurship, whilst creating a discussion about what really 'makes an entrepreneur'. Here's my reflection on the experience.
Background
EnterpriseTECH Star is a programme at Cambridge Judge Entrepreneurship Centre which helps turns researchers to entrepreneurs. I took part as a student in the prequel to this, the EnterpriseTECH porgramme in 2020-21, which pairs you up with inventors to work on figuring out the commercial feasibility of their idea.
My involvement on this programme first began due to a blogpost I wrote about Why PhD students should think about their entrepreneurial skills, this connected me with Rebecca who described this is exactly the aim behind the programme she leads at Cambridge.
When Rebecca and I first connected, my team had just launched the Entrepreneurial Brain Challenge (EBC), an online project to test the skills, personality and cognition of entrepreneurs. The basis of the EBC is a set of cognitive tests which have previously been given to over half a million people in the Great British Intelligence Test (GBIT) ran by our collaborators at Imperial. We designed the EBC to include the GBIT battery, alongside measures of entrepreneurial skills and personality, with the aim to take a data-driven approach to understanding the entrepreneur.
Fast-forward to this year (2022), I've finished data collection and have performed an initial analysis on the data from the EBC. We have been using these insights to inform the MRI study design, due to launch in the next few months.
This month, Rebecca invited me back as a mentor and speaker for the EnterpriseTECH Star programme. The aim was for the students to take the EBC, then hear from me some analysis and interpretation. 
Here's how it went
Before I arrived, the students had undergone a mindfulness and yoga session with Rebecca, meaning I was met by a Zen cohort of students, ready to share and learn.
The session started with each student getting up and displaying their spider charts showcasing their personality and 7 Skills of an Entrepreneurial Mindset. Hearing from them first was a fantastic idea from Rebecca to see their interpretation without any background or priming from me.
One thing I noticed straight away was how everyone automatically made excuses for the traits they perceived to be 'negative' or skills which they seemed to be lower in. It can be tough to get up in front of a room full of people and admit our faults, so I understand this, but it was something I wanted to address.
So, we had a discussion around how these traits are not positive or negative, we are human and our weaknesses can be strengths, or our strengths can turn into weaknesses. The necessary part I wanted them to understand was that by building awareness of who you are, you can figure out areas of growth, whilst also building better teams and mentors that challenge you.
Leading on from this, the second thing that I noticed from the cohort of scientist entrepreneurs, was that people tended to come out as introverted, conscientious, and open. So, we spoke for a while about this combination of traits. Particularly how intelligence and a tendency to 'get in your own head' and overthink or over-plan might impact development in entrepreneurship. But how the openness to new experiences, meant they were often curious and innovative, traits that bode well and transfer well into entrepreneurship and the learning/mindset shift they were about to go on. This further instilled in me a view I already hold, which is that entrepreneurship training really should be personalised to the individual.
I went on to speak in more detail about the initial findings from my data, the skillset, personality and cognition that we have found to differentiate entrepreneurs from non-entrepreneurs. I spoke about how I'd tested some of the assumptions of what skills exist in entrepreneurs and applied new methods to understand how an entrepreneur thinks.
The session ran for 2 hours and the narrative I designed was to take the cohort from the classic stereotypical views of entrepreneurship to a more balanced view of what my data shows. The aim being for this new knowledge to shift their mindsets and approach developing a business idea, to be more flexible in their planning, be prepared to pivot and quote-on-quote 'let loose' and enjoy the process.
My reflection
I was enthralled by the end, the students were open and engaged and fully came on this journey with me. The experience was hugely rewarding and from the feedback I received it really had reshaped the way some of them thought about entrepreneurs, about themselves and the approach they were going to take.
They could resonate and understand as scientists how the skills that have got them this far, might need to be disrupted to drive forward into entrepreneurship. Someone even noted that it made them think of the famous quote (and book)
"What got you here, won't get you there".
In which Marshall Goldsmith discusses how often successful people become transfixed on the traits and skills that got them to where they, but that this in-fact stands in the way of them adapting and preparing for the future.
When I began this research project, I intended to use the EBC as a pilot study for my MRI, to gain some key insights to carry forward into my PhD work. I had not imagined it could be used for such personal reflection and sharing for early-stage entrepreneurs.
The reason I choose to do this work, is ultimately because I want to work with people and see with my own eyes the impact my research can make. Yesterday I got to see the years I've put in so far play out in front of eyes and it's been the most rewarding aspect of my PhD so far.
In addition, it's been fantastic to liaise between the Entrepreneurship Institute at King's College London and the Cambridge Judge Entrepreneurship Centre, showing how these centres can knowledge share and work together for the benefit of student's education. I even got to see the (other) famous King's College from the river whist punting after my session.
I am so grateful to my team at the Entrepreneurship Institute and my supervisors who support me in creating and sharing these research outputs, and Rebecca and her team for giving me such a fantastic opportunity.
Continuing this work
I hope through knowledge sharing such as this experience we can work to offer everyone the opportunities to develop themselves and their career. My view is that we can all learn and grow entrepreneurial skills if only given the experience and opportunities.