01 October 2019
Essays on Equality
Read the new GIWL publication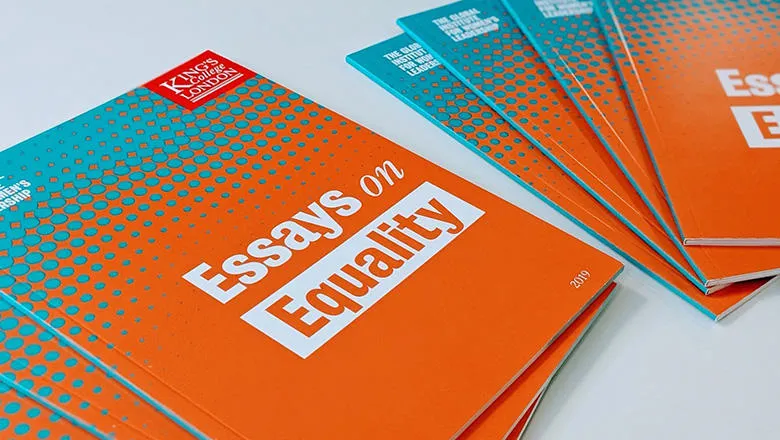 Today the Global Institute for Women's Leadership is launching a new publication, Essays on Equality, which features contributions from GIWL researchers and leading figures working on women's leadership and gender equality.
We'll be serialising all the pieces on the comment section of our website over the coming weeks, but in the meantime the full publication is available to download now.
And for an overview of the great essays we've sourced, you can read the foreword by our Chair, Julia Gillard.
Foreword
Welcome to this first edition of Essays on Equality, a new publication from the Global Institute for Women's Leadership. Written by GIWL researchers, members of our Advisory Council and leading researchers and campaigners, this essay collection provides research-informed reflections on the fight for women's equality.
Former Prime Minister of New Zealand Helen Clark, a patron of GIWL, kicks us off, writing on the importance of feminist leadership from men and women to help change mindsets, institutions and the law. She reminds us that we all gain from gender equality, so it is everyone's responsibility.
GIWL Senior Research Fellow Dr Rose Cook questions whether the huge growth in diversity and inclusion activities, and the millions invested in them, is actually making a difference. She calls for an evidence-based and targeted approach to D&I training, and highlights GIWL's upcoming executive education programme, which aims to address some of these challenges.
GIWL Advisory Council member Professor Tomas Chamorro-Premuzic explains that by mistaking confidence and charisma for competence, we end up with poorer leaders and fewer women at the top. He argues we need to value different characteristics if we are to improve leadership quality and boost the number of female leaders.
Emma Kinloch, GIWL Research and Projects Associate, tackles the thorny issue of Brexit, critiquing the ways in which women have been excluded or undermined during the UK's negotiations for a deal with the EU. Given this is one of the biggest challenges the UK has faced since the Second World War, and the disproportionate way Brexit is likely to impact women, their voices must be heard in this debate.
Another member of the GIWL Advisory Council, Iris Bohnet, Professor of Business and Government and Academic Dean of Harvard's Kennedy School, contributes a piece with colleagues Siri Chilazi, Annisha Asundi and Lili Gill Valletta on what the world of venture capital could learn from orchestra directors, who have combatted gender bias through blind recruitment processes.
Laura Jones, GIWL Research Associate, looks at women and the future of work, arguing that while new technology can help address gender inequality in the workplace, more fundamental structural and cultural changes are needed to make the world of work fairer.
Taking a global look at gender inequality, Diva Dhar, Senior Programme Officer, Gender Data and Evidence, at the Bill and Melinda Gates Foundation, writes on one of the most glaring manifestations of inequality between men and women: the gap in unpaid care work, which she argues must be better analysed and researched.
Did you know that the average voter in the UK is a woman? Professor Rosie Campbell, GIWL Director, looks at women's policy preferences, how they vote, and whether Britain's politics is changing as, for the first time, female voters became more likely to vote Labour at the 2017 general election.
Finally, Sam Smethers, Chief Executive of the Fawcett Society, one of the UK's leading charities campaigning for women's equality, rounds off our collection by highlighting policy changes that could drive real progress in improving women's working lives. Expanding gender pay gap reporting, equalising parental leave and mandating flexible working are just some of her suggestions. 
I hope you find these contributions enlightening and informative. While they lay bare the challenges we face, they also offer hope, and crucially, practical solutions to help create a fairer, more equal world. If you'd like to pick up any of the themes here, or have any other thoughts, please do get in touch with the GIWL team: giwl@kcl.ac.uk
Julia Gillard