15 December 2021
Essays on Equality – global and intersectional perspectives on the pandemic
Read our latest essay collection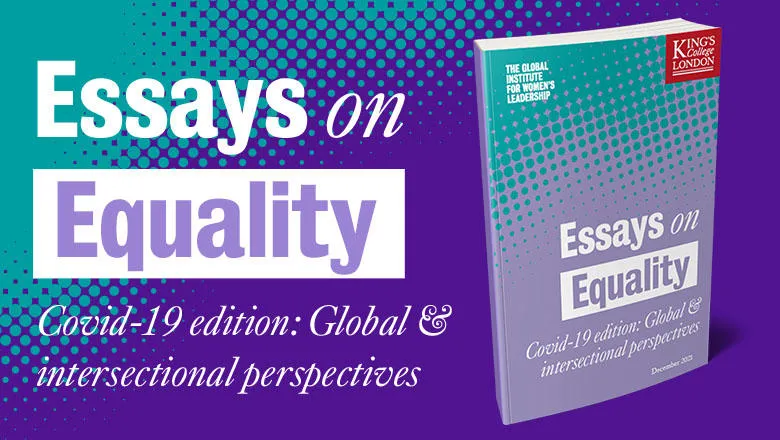 Download the essay collection
Covid-19 edition: Global and intersectional perspectives
Produced  by  the Global Institute for Women's Leadership, the latest edition of Essays on Equality  explores the gendered impacts of the Covid-19 pandemic on a global scale.
The essays take an intersectional approach, examining the pandemic experiences of different groups of women – including single mothers, pregnant women, migrant women, and indigenous women – and the adequacy (or inadequacy) of national and international policy responses to address them.
Download the collection and read the introduction below, by GIWL Senior research Fellow Dr Rose Cook.
Introduction
The Covid-19 pandemic, policy responses, and resultant economic crisis are having disproportionate impacts on women, threatening to reverse decades of progress on gender equality. Going forward, public policy has the power to either make these impacts worse or mitigate them by developing gender-sensitive solutions.
In 2020, the Global Institute for Women's Leadership launched a research project, Gendering the UK's social policy response to the Covid-19 crisis, funded by the Economic and Social Research Council,1 to explore the extent to which the policy response to Covid addressed its many gendered impacts and inform the development of feminist social policy approaches in the Covid-19 era. This special edition of Essays on Equality was borne out of this research and focuses on global and intersectional responses to the pandemic.
The gendered impacts of the pandemic have been felt around the globe, but the specific contours of these impacts vary substantially across countries and there has been a similarly diverse international policy response. Through our research, we brought together a global network of researchers, activists and policymakers, who were dedicated to documenting these impacts and scrutinising their countries' Covid policy responses. The essays in this collection draw on this detailed country expertise to offer invaluable insight into how women in different societies were affected. The essays take an intersectional approach, broadening an often simplistic focus on women as a homogenous group by examining the pandemic experiences of specific groups of women – including single mothers, pregnant women, migrant women, and indigenous women – and the adequacy (or inadequacy) of policy responses in addressing these.
Our own research uncovered serious gendered consequences and flaws in the UK policy response to the pandemic. For instance, studying gender differences in experiences of the UK furlough scheme – a job protection scheme – in the early months of the pandemic, we found that men returned to their previous working hours at a higher rate than women, who were more likely to still be out of the workplace months after accessing government support. Furloughed women also had lower perceived job security and financial security than their male counterparts.2 We also studied the design of job protection schemes across Europe and found that the majority of schemes imposed various gendered barriers to access and adequate support, having seemingly been designed with a standard (male) worker in mind.
While our research focused primarily on employment, as the essays in this collection make clear, Covid's gendered impacts and policy responses are diverse and wide-ranging, going far beyond anything we could possibly document in a single research project. Our hope is that this special edition of Essays on Equality is a way to go beyond our own findings and make clear the multiple, as yet under-explored gendered challenges associated with the pandemic.
The experts featured in this collection put forward many specific policy proposals – such as tackling the discrimination faced by single mothers, helping employers protect pregnant women, and providing legal protections for migrant domestic workers – but also propose a more profound change in how we structure the institutions of society to foreground care and redistribute power and voice. But, as the essays highlight, there are many questions still to be answered. Chief among these is how to enact genuine and meaningful change rather than the common practice of paying lip service to gender inequality without sufficient commitment or investment.
I hope you find these essays enlightening and informative. If you'd like to pick up any of the themes here, or have any other thoughts, please do get in touch with the GIWL team at giwl@kcl.ac.uk.