11 July 2017
Faculty achieves Green Impact Bronze Award for sustainable practice
The Faculty of Natural & Mathematical Sciences (NMS) received the NUS Green Impact Bronze Award this year in recognition of its introduction of sustainable practices into the workspace.
Trees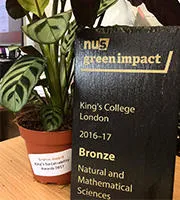 The faculty's NUS Green Impact Bronze Award
Green Impact is an environmental accreditation programme that enables and showcases positive changes in environmental practice across universities and the workplace.
The award was presented at the King's College London Sustainability Awards which took place in early July 2017. Achievements highlighted the growing commitment and enthusiasm among the King's community for sustainable development - one of the enabling foundations of Vision 2029.
Working closely with the Green Impact accreditation scheme the Faculty successfully qualified for the bronze award. Criteria included using platforms such as Warp It which helps to reuse and recycle unwanted objects such as furniture and equipment, having clearly labelled recycling bins and ensuring that the Faculty buys tea and coffee from a certified sustainable source such as Fairtrade.
The Faculty of Natural & Mathematical Sciences' Sustainability Champion Lily Brinn commented: "This is a fantastic accomplishment which has been achieved with students and staff working together across the faculty. I would like to thank you all for your contribution to the scheme and hope that you will continue with the sustainable practices as we set our sights on attaining the silver award."
The Green Impact scheme is run by the National Union of Students and offers an easy way to track and work towards being more sustainable. Sustainability Champions work across our campuses and residences in office environments and laboratories to encourage a more sustainable environment.  
If you are interested in becoming a Sustainability Champion or finding out more about sustainability at King's please visit the sustainability webpages.