08 May 2018
Four New PLUS Alliance Fellows in SSPP
Four colleagues in SSPP have been appointed as Fellows of the PLUS Alliance, a partnership of three universities including King's College London.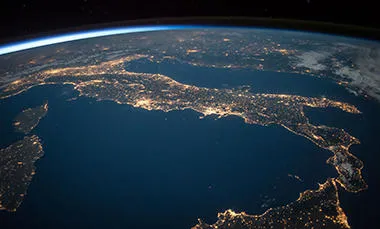 The Earth from space
The PLuS Alliance, a partnership of three universities including King's College London, has announced that four academic colleagues from the Faculty of Social Science & Public Policy (SSPP), have been appointed as 'PLuS Alliance Fellows'. Dr Andrea Ellner, Professor Bronwyn Parry, Dr David Whetham and Dr Eka Ikpe join colleagues from across King's who are working together to share knowledge and advance learning across disciplinary and institutional boundaries. 
The PLuS Alliance brings together King's College with Arizona State Universityand UNSW Sydney with the goal of "empower(ing) global communities to address their local needs to create a sustainable future for all". Fellows, selected through a competitive application process from each of the partner institutions, are dedicated to working with one another across four core themes: global health; sustainability; social justice and technology & innovation. 
Two of the new Fellows, Dr Andrea Ellner and Dr David Whetham, are based in the Defence Studies Department (School of Security Studies), whilst Professor Parry and Dr Eka Ikpe are both members of the School of Global Affairs; Professor Parry as Head of School and Dr Ikpe as a Lecturer in both the African Leadership Centre and Department of International Development. Dr Ikpe, Dr Ellner and Dr Whetham join the PLuS Alliance as Fellows under the 'Social Justice' priority area, whilst Professor Parry's appointment sits under 'Global Health'. 
Commenting on the appointment of the new Fellows across King's, Paul Ramadge, Director of the PLuS Alliance, said: "Advancing and encouraging international partnerships in research is more important today than ever before. From the environment to migration and public health, the challenges we face are becoming increasingly interconnected and global in nature. Each of these Fellows has demonstrated a commitment to tackling such challenges through cross-border collaboration, and I look forward to seeing the outcomes of the new connections that are forged across our partner universities."
In this story