10 May 2022
From grassroots to government: How students' simple idea grew into a major project
What started as a simple idea between a group of students at King's may soon be helping to shape a change in policy for business and governments alike.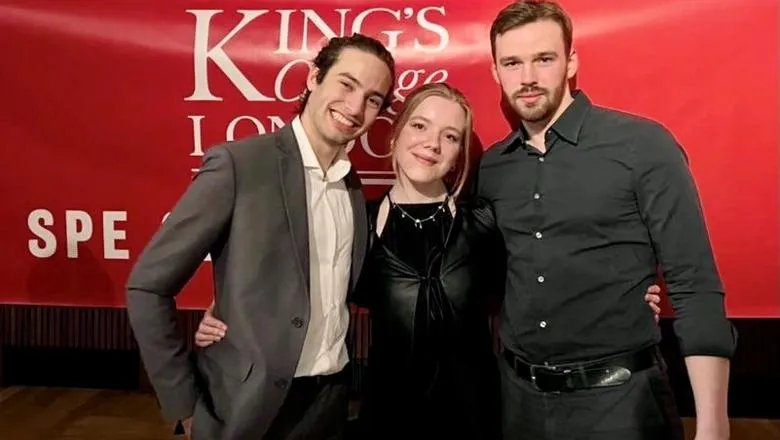 Leonardo, Marcia and Jasper. Picture: CONTRIBUTED
The School of Politics and Economics hosted its first ever policy pitch competition for students in early 2020 and the opportunity immediately appealed to Marcia Holst, Jasper Doeninghaus and Leonardo Vizioli.
The undergraduate trio, who study philosophy, politics and economics (PPE), immediately set to work on an idea to meet the brief – a policy to help the UK government achieve its net-zero carbon commitments – and enlisted the help of friends over a period of weeks to hone their idea.
What resulted was a simple concept the trio hoped would be enough to impress the panel of judges: a carbon scoring system for consumer goods (you can find out more about the idea here). The idea, research, and delivery won unanimous praise from the panel and the trio were awarded the top prize.
Instead of resting on their laurels, however, they were determined to push on with the policy and set about building on their work. The onset of the COVID-19 pandemic meant the trio were able to dedicate additional time to the project and, over the next two years, the concept has flourished.
The carbon label constitutes an important tool to raise awareness, increase transparency, and provide crucial information.

Marcia Holst
Boosted by funding from the Project Together scholarship, the students took their work to a German retailer, Alnatura, and were invited to field-test their system in one of the firm's superstores – an exercise which yielded encouraging results.
Their raw data suggests the carbon-scoring system influenced purchasing decisions for consumers by raising awareness and positively impacted the carbon footprint of the supermarket as a result.
They have subsequently been invited to contribute to a policy project with the German Federal Ministry of Food and Agriculture and they hope their results could feed into government policy in future.
Their work over the last two years has contributed to their dissertations, which are due to be submitted in the coming weeks, and may yet shape their own futures. All three will continue to work on their project over the summer – they currently do a minimum of 10 hours a week alongside their studies – and, if their results continue to impress, they may yet continue to build the concept into the future with the ministry and supermarket.
"We are convinced [the carbon scoring system] is a good thing and we want to make it possible," said Jasper. "We are going to present our results to Alnatura soon and see where we go from there."
Marcia said: "We believe precise carbon accounting is vital in the decarbonisation process of any industry. The carbon label constitutes an important tool to raise awareness, increase transparency, and provide crucial information. Our results suggest it can have a significant impact towards more pro-environmental behaviour."
Leonardo added: "We spent a lot of time thinking about a policy that could be business-friendly but we also thought about creating something that could affect other areas. We believe this idea could be expanded to a whole range of industries and we'd like to make that happen in future."
And what about advice for others thinking about building a successful policy idea?
"Try to narrow it down to a very specific policy issue you would like to solve," said Marcia. "Make sure to consider how your idea would impact other interest groups in the political economy and how to respond to their possible objections. Incorporate feedback and criticism from experts and be flexible with your original plan."
Leonardo said: "Try hard to think of an idea that is feasible to implement but is also impactful."
Jasper added: "Take the time to think about it and speak to people about it. We had an idea and we started to talk to our networks and through that process the idea was refined."