19 February 2019
Further Success for Mental Health Nursing Student's Live More Service
A Mental Health Nursing student achieves further success with Live More, a service providing daily supported exercise for hospital inpatients with severe mental illness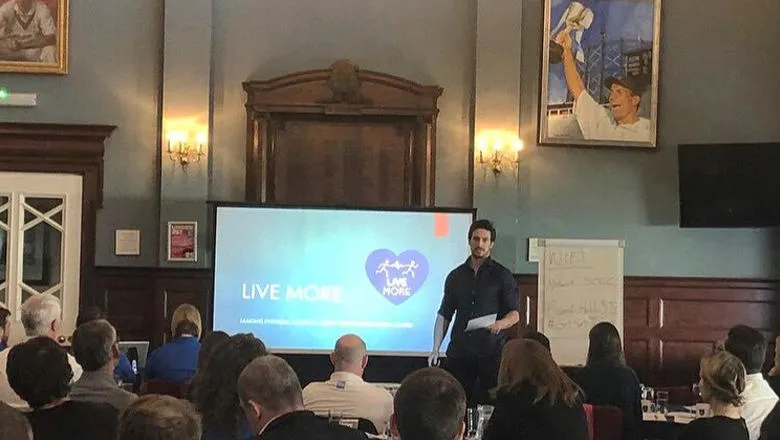 Matt Waugh presenting
Matt Waugh, a postgraduate Mental Health Nursing student, was awarded a place on the King's20 Accelerator last year for Live More, a service providing daily supported exercise for hospital inpatients with severe mental illness.
Following on from this success, Matt has been awarded an Allesch-Taylor Scholarship. Ventures from the King's20 Accelerator were pitching to a panel of business leaders and received over £200,000 of investment offers. Matt was one of the winners and was awarded £5,000. The award is named after, and judged by, Stefan Allesch-Taylor, Professor of the Practice of Entrepreneurship at King's.
Live More is currently undergoing two pilot schemes, for male and female patients in psychiatric intensive care units at St Charles Hospital in London. The patients are supported to take part in daily exercise activities, led by Matt. Live More has been invited to share its findings from the pilot at the World Psychiatric Association's Convention on Costs and Assessment in Psychiatry – "The Value of Mental Health Services" in Venice (29-31 March).
Matt was also a winner of the Medopad Greatest Minds in the NHS Competition. Health technology company Medopad ran a competition to mark the 70th anniversary of the NHS, asking NHS clinicians to submit ideas to transform patient care pathways, improve standard of care or kickstart new clinical research with the use of Medopad's app platform. Matt submitted a proposal for Live More, alongside Central and North West London NHS Foundation Trust (CNWL) clinical director Jo Emmanuel. They were successful, and Live More has now been made the basis of an app that will be offered to CNWL patients over the next year. The app will allow patients to track their activity levels, mood and medication adherence, and share this data with their care teams. It represents an exciting opportunity to better support patients in sustaining improved lifestyle change, and to use hospital admission to improve the trajectory of severe mental illness.
Matt was awarded a CNWL health and wellbeing bursary to improve exercise equipment on the wards. Staff on the wards have started regularly exercising alongside patients. They have noted the difference daily exercise has on giving patients a positive identity while in hospital. Bethan Davies, activities coordinator on Shannon Ward at CNWL, wrote:
'What made the most impact on the patients' lives is how the gym gave them a reason to wake up. Unlike the other groups, there is progression in the gym and mental reward that comes at the end of the session.'
One patient remarked: 'It's the world's smallest but greatest gym.'
Matt will be growing Live More as a company after qualifying as a psychiatric nurse. He said:
'I want Live More to be the leading exercise and mental health brand, and improve lives on a global scale.'