06 June 2023
Gloria's Law: meeting with MPs and campaign groups at Portcullis House
A bill was introduced in the House of Commons today to make visiting care settings a legal right.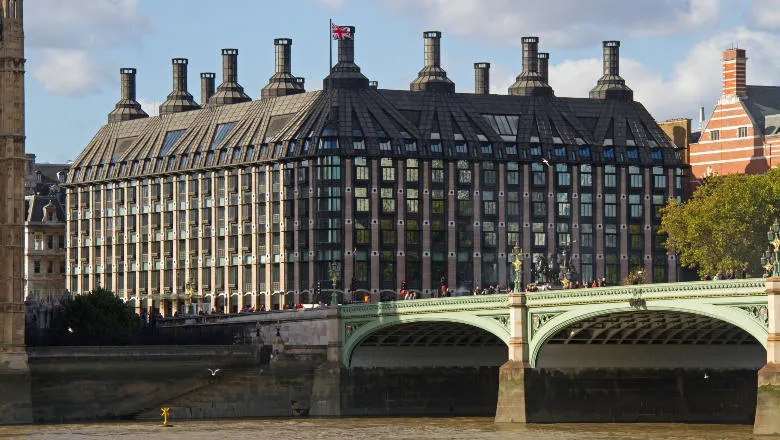 People who lost a loved one in a hospital or care home during the pandemic spoke of being advocates and the 'voice' of their family members in care as Dan Carden MP introduced a bill in the House of Commons today to make visiting care settings a legal right. Jo Brown of the 'right to a care supporter' study team attended the emotional meeting and heard of the heartbreak that families experienced when visiting care homes and hospitals was not allowed.
Today's meeting was chaired by Dan Carden MP and attended by members from across the Commons, including Daisy Cooper MP, Tracey Crouch MP, Liz Saville Roberts MP and Helen Whately MP (Minister of State for Social Care).
The aim of the meeting was to raise awareness of Gloria's Law, a campaign for a legal right to maintain contact led by Care Rights UK and John's Campaign. If implemented, this law would give anyone who needs it the right to unrestricted in-person support from at least one essential 'care supporter' (such as a relative or friend) in all health and care settings. Whilst many providers and NHS Trusts have made voluntary pledges to support this, a legal right would make it a duty to facilitate this contact wherever the person is receiving care and support and regardless of how it is funded.
MPs in attendance heard from campaign groups, family carers and NHS staff about their experiences of caring for vulnerable relatives during times of enforced separation (such as due to COVID-19 restrictions). Several family members who had lost loved ones during the pandemic spoke about the devastation of being denied access to them whilst they received care in hospital or in a residential care home. Whilst the 'Essential Caregiver' role enabled some carers to gain access to their loved ones before they began end of life care, this was often applied inconsistently across the country and came too late for some. Campaigners emphasised that although the experiences of the pandemic cannot be changed, a new legal right would ensure that families are protected from this distress in the future.
Staff from Calderdale and Huddersfield NHS Trust shared a case study of how they have listened to the concerns and experiences of carers and designed a new initiative to support them. Their 'Keep Carers Caring' scheme was developed with local carers' organisations and provides pink lanyards to identify those providing care to a vulnerable friend or family member. As part of the initiative, carers also have access to free parking, meals, and camp beds to facilitate overnight stays. Carers have the right to be with their loved one at any time, day or night, regardless of the ward's visiting hours. Staff at the hospital also make follow up calls to carers to check in and ensure they are receiving the support they need.
A key theme that emerged throughout the discussion was the role of carers as advocates for their family member or friend. Many speakers commended the kindness of the staff who cared for their relatives in a hospital or care home, but this was not a replacement for the depth of knowledge and connection provided by a loved one. Family members spoke about knowing what made their loved ones 'tick', and being able to reassure and speak up for them when they were struggling to communicate. Campaigners highlighted the value of this connection for the person's wellbeing at what can be a disorienting and even distressing time.
This afternoon, Dan Carden MP introduced the care supporter bill as a Ten Minute Rule Motion in the House of Commons. The cross-party support for the bill, combined with the sustained campaign efforts of John's Campaign and Care Rights UK, has been critical to the bill reaching this stage. The second reading is scheduled to take place at the end of November.
About the 'right to a care supporter' study
As part of the 'right to a care supporter' study, being led from the NIHR Policy Research Unit in Health and Social Care Workforce at King's, the team will be investigating the practicalities of implementing this new legal right, particularly for older adults with dementia. Over the coming months, we will be gathering the views of people working in health and social care as well as people living with dementia and their carers. You can find out more on the study website. The study, which is led by Caroline Green, is funded by the Three NIHR Research Schools' Dementia Programme.
Upcoming event
22 June 2023: Care support in health and social care: the past, the present & the future. With Caroline Green, Jo Brown, Josie Dixon, Helen Wildbore and Jill Manthorpe.
Header image: Portcullis House, Westminster
In this story