04 October 2019
"He told me I was going to destroy British business" Helena Morrissey talks gender diversity in finance to Julia Gillard
Dame Helena Morrissey talks to Julia about how she got to the top in the heavily male-dominated world of finance and campaigning for more women leaders in business.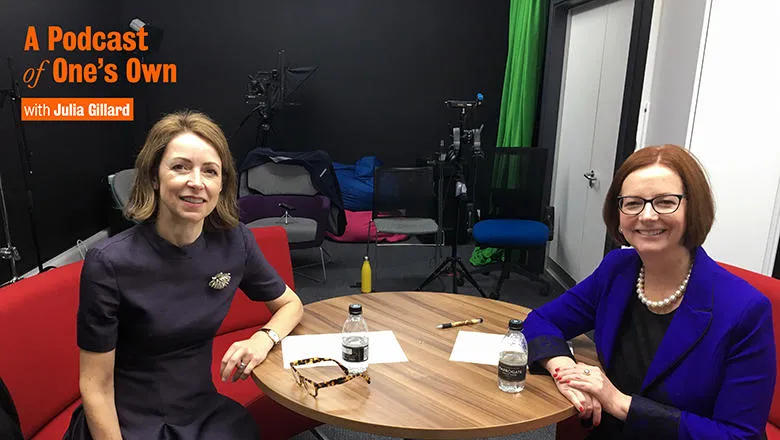 Dame Helena Morrissey talks to Julia about how she got to the top in the heavily male-dominated world of finance and campaigning for more women leaders in business.
Subscribe to a Podcast of One's Own.
Dame Helena Morrissey, a senior UK city financier, shares how she rose to the top in the heavily male-dominated world of finance with Julia Gillard in the latest podcast episode. She also talks about her efforts to increase female leadership in the sector and the backlash she received, including being told she would destroy British business by one Chairman in response to her campaign to increase women's representation to 30% on boards. 
Morrissey, who is currently Head of Personal Investing at Legal & General Investment Management, is tipped as a possible successor to replace Governor Mark Carney at the Bank of England. If she succeeds she would become the first woman to ever hold the position.
A mother of nine children looked after by her husband, a stay-at-home dad, Morrissey has long campaigned on improving women's representation in business, establishing the 30% Club in 2010 to increase the number of women on company boards, and advocating that workplaces embrace diversity and difference in her 2018 book, A Good Time to Be A Girl.
Morrissey began her career in finance as the only woman in a team of 16 men when she started working for a city firm as a graduate. One returning from her first maternity leave as a new mother, she was shocked when she was passed over for promotion and told "there's nothing wrong with you performance but there is some doubt over your commitment with a baby."
She describes her reaction:
"I had never thought that my gender would have anything to do with how far I thought I could progress."
This early injustice sparked not only a desire to "find a culture which was more conducive to my thriving, a real meritocracy" but also to change workplace culture:
"It was a very important milestone because it gave me real resolve to try to help other women to not have that same experience."
Later in her career, Morrissey went on to establish the 30% Club, which campaigns to increase the number of women on company boards. Started in the UK in 2010 following the financial crisis, it has since expanded to fourteen other countries and regions.
But despite the clear need for greater diversity on boards following the financial crisis, and as Morrissey points out "There is no business case for just one type of person running things", it was a challenge to get support:
"The majority of chairman were not supportive and still regarded this, notwithstanding the financial crisis, notwithstanding other pressure points, as a women's issue, not a business issue."
However, attitudes began to change as businesses saw that diversity was part of the solution rather than the problem, and, since 2010 the campaign has achieved its target of increasing the percentage of women on boards from 12.5% to over 30%. But as Morrissey points out there's still some way to go in reaching 30% of women CEOs and CFOs. 
A mother of nine children, Morrissey is grateful that her husband can take caring responsibility of the children as a stay-at-home dad, and whilst he feels "genuinely proud" and "loves what he does", Morrissey states that it wasn't always easy for him given expectations around male roles:
"He hated being asked at school gates or dinner parties…'what is it that you do?' Because it would floor people…people would shuffle and look embarrassed and they didn't know how to pigeon-hole him."
She has also suffered from judgements held about working mothers, and despite the progress that's been made since she suffered workplace discrimination for being a mother, deep-seated stereotypes are harder to shift:
"Attitudes have been much slower to change…there's still a lot of judgements on working mothers…a very unhelpful insinuation there's a certain role that women should take and another role that men should take."
This leads to harmful workplace cultures where people are not able to be honest about the pressures outside of work, as Morrissey, referring to research conducted by Business in the Community illustrates:
"Nine out of 10 men said they thought they should play as big a part in childcare as their wives…[but] the majority of men with caring responsibilities hide it from their employers because they don't think it's compatible with career progression or job security and that is a real indictment".
In Morrissey's view however, things are starting to change as younger generations of employees expect a different working environment and as new pressures emerge such as the rise of AI and workplaces technologies:
"I think we need to rethink the whole of work to suit men and women…the creative spark that's needed in companies now is going to require diversity of thought…and this is a bigger broader moment to seize."
Morrissey admits that her resolution to campaign on issues such as gender diversity has come at some professional and personal cost, but she has no regrets as she explains:
"A lot of progress depends on being a little bit unreasonable…but I'm happy to do that if it changes the future for some women, hopefully more than just a few."
 You can find this episode and previous episodes of A Podcast of One's Own, on all the main podcast platforms.