19 June 2019
Inaugural School of Basic & Medical Biosciences PhD Symposium held
PhD students presented their research to the School in a day full of exciting and intriguing research for the first School of Basic & Medical Biosciences PhD Symposium.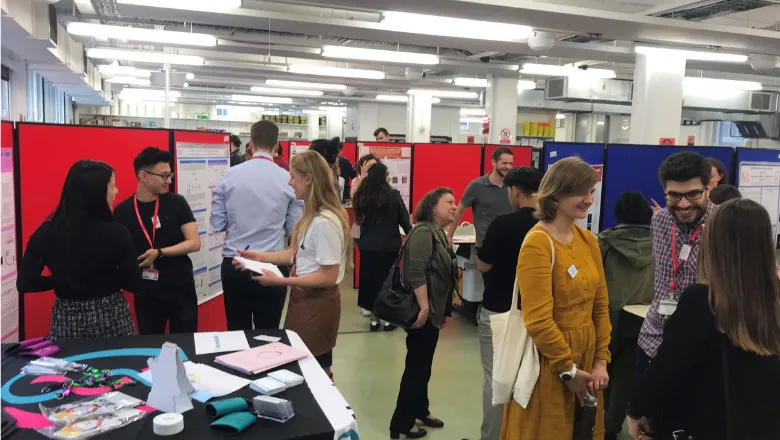 Poster session at PhD Symposium
Professor Mathias Gautel, Head of School, opened the day by highlighting the great opportunity the Symposium is for our students to showcase their research.
Today is about plain and unmitigated curiosity and the desire to find why and how things happen

Professor Mathias Gautel
The event, held on Tuesday 18 June 2019, consisted of parallel sessions of oral presentations from third year PhD students presenting from all five departments of the School. Topics covered a wide range of research from 'Differential free intracellular calcium release by class II antiarrhythmics in cancer cell lines' by Marta Reyes Corral to 'The effects of 7 days of whole body unloading using a hyper buoyancy flotation bed on skeletal muscle mass' by Tessa Morris Paterson.
There were also a series of poster presentations from first- and second-year PhD students over lunch and during the breaks. In total 99 students presented their work with 31 giving oral presentations.
Prizes were awarded to students who gave the best talk, best 1st-year poster and best 2nd-year poster. The presentations were voted on by delegates in the audience and during the poster sessions.
The award winners were:
Best talk
Winner: Grace Chan – 'Defining co-operative signals between integrins and epidermal growth factor receptor (EGFR) that control epidermal homeostasis'
Runner up: Melina Hoffman – 'Development of a Novel Antibody-Drug Conjugate for Melanoma'
Best 1st-year poster
Winner: Ed Battey – 'Myonuclear architecture and mechanics in old age'
Runner up: Salwa Alhamad – 'Defining the Role of B7H3 (CD276) in Epithelial Homeostasis and Cancer Progression'
Best 2nd-year poster
Winner: Fani Panagaki – 'Understanding the molecular mechanisms regulating the mechanosensitive focal adhesion protein zyxin'
Runner up: Conor Treacy – 'The mechanism of vinculin recruitment and activation in maturing focal adhesions determined by three colour FLIM'
A big thanks go to the organising committee for organising such a wonderful symposium: Ben Grimsdell, Ieva Berzanskyte, Sergi Junyent Espinosa, Marta Reyes Corral, Yasmin Omar, Sarah Kendall, Eduardo Morales, Johanna Prueller, Conor Treacy, Robert Harris, Mano Nakamura, Thanos Niaouris, Baljinder Mankoo and Helen Rudkin.