24 June 2021
Inclusive design should be at the heart of the hybrid workplace
Rob Cookson
As flexible working increasingly becomes the norm, how can we ensure work practices evolve in an inclusive way?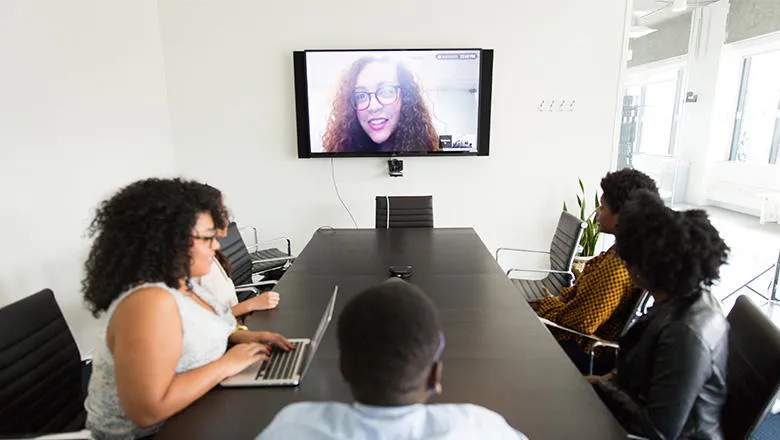 Essays on equality – Covid-19: the road to a gender-equal recovery
Download the essay collection
Across sectors and geographies, in the last 12 months we have seen waves of announcements from companies and organisations rolling out new programmes around remote work and flexible working practices. The trend towards more flexible work was alive and well pre-Covid, but there is no question that this trend has dramatically accelerated as companies have experienced the pros and cons of this way of working over past year.
While companies' motivations for new approaches to work may vary – for example, talent acquisition, cost, or employee satisfaction – there is no question that remote and flexible working are going to be more prevalent than they have ever been and are here to stay post-pandemic. In a survey of 60,000 employees undertaken by Corenet Global and Cushman and Wakefield in 2020, employee expectations of being able to undertake hybrid work (part in office, part remote) increased from 29 per cent pre-Covid to 81 per cent post pandemic. In JLL's Reimaging Human Experience research, 72 per cent of survey respondents want to continue working from home at least two days a week.
My first port of call when asked to write this essay was to consult with the female and male leaders in my team to get their perspective and those of the women in their teams. What is clear from the responses is there is huge variance to the challenges women face working remotely or flexibly and there are a variety of factors at play – geography, family situation, living situation, socio-economic situation, caring responsibilities and character traits – that enable some to be more successful than others in a hybrid environment. There isn't one solution that fits all, but what is essential is to create an inclusive environment for remote and flexible workers to be successful in.
In May 2020, Facebook announced a long-term commitment to remote working, and so, over time, we will see more of our employees working away from the office compared with pre-Covid.
Personally, I'm excited about the increased development of remote and flexible work models, as they afford huge potential to access new diverse talent pools. This allows more flexibility for talent that might otherwise leave the workforce and generally provides more opportunity and flexibility around where to live and how best to work.
The ability to work in an office may be associated with some level of privilege, favouring employees with sufficient financial stability and/or childcare support (if relevant) to live near or travel the distance to reach the office. So, as remote and flexible work become more prevalent, there is the potential for this privilege gap to widen.
For the reasons above, we will likely see that employees taking advantage of flexible and remote working opportunities are more diverse than the baseline population.
According to the academics Mark Mortensen and Martine Haas, hybrid working presents the potential for a power imbalance between those working in the office full-time and those not – both in terms of access to information and resources (hybridity positioning) and the different abilities of hybrid workers to deal with working remotely (hybridity competence).
This power imbalance is borne out in research, undertaken pre-pandemic, into companies with large portions of flexible or remote workers, which showed that being in the office is connected to career growth.
Managed well, remote and flexible work programmes will have a significant positive impact on growing and diversifying the workforce and afford improved work-life integration for many. But we have to avoid a situation where privileged, less diverse people are in the office, and, as a result, are receiving better support to advance their careers and are more likely to be promoted into leadership positions.
"Managed well" is key. As the home environment becomes increasingly blended with the work environment, this has the potential for very different outcomes for different groups of people. It will therefore be essential to put diversity and inclusion at the heart of any remote or flexible work programme.
To create as level a playing field as possible, we need to work on two fronts. We need to make a remote workers' home-working environment as "match fit" as possible for work they do, and we need to ensure that the workplace and company culture adapts so that remote and flexible workers aren't disadvantaged but rather are at the centre of the office experience.
Covid forced remote work on us suddenly, and many didn't and don't have optimal home-working environments. Company support is vital. Like many other companies, at Facebook we provide a home office set-up allowance to remote workers and an annual allowance for items like high-speed internet bandwidth.
As far as feasible, a remote or flexible worker should have access to the same standard of office furniture, technology and office equipment as the in-office worker, to enable the remote work experience to be as frictionless as possible and to support productive, creative and innovative work. Guidance on important wellbeing opportunities like optimal ergonomic set-up, best plants for indoor air quality (and therefore productivity) and optimal home office layout for video conferencing will also be key.
For many remote workers, access to a "third space" where work can be undertaken efficiently will be advantageous for times when the home office working environment is challenged or a change of scenery required.
In-office environments will need to be rethought so they are efficient for flexible and remote workers "dropping in" – when they visit the office, they should be set up to be as successful as their in-office counterparts. In-office environments need to ensure that office services, such as getting your laptop fixed and other admin-type services like a help desk, are equally accessible to remote workers.
Offices supporting hybrid teams will need to provide ease of connectivity to flexible and remote workers who aren't in the office – for example, easily accessible video conferencing-enabled meeting spaces. Remote workers will also need equal footing in every meeting, so we need to redesign our approach to meetings and how we represent remote workers in the meeting environment to make sure they have the same opportunity to participate as the people in the room. This applies to all team interactions, from in-office team huddles to post-meeting debriefs – it will be vital to consider who else should be participating that might not be physically present.
Successful physical environments are essential, but for remote and flexible workers to be seen, heard and valued, processes, policies and leader behaviours need to be aligned and in support. It will be essential to build leadership skills in managing remote teams inclusively – something we have and continue to invest heavily in at Facebook.
In managing and getting the best out of remote and flexible workers, leaders will need to develop inclusive leadership traits including showing care, empathy and understanding, and will have to create that environment in wider teams. Leaders will need to communicate well and share context, develop human connection and build community and team culture in hybrid teams. Being available and generous with time will be especially important for leaders. Among others, these are traits and behaviours that effective leaders at Facebook are expected to possess and develop. In my view, these traits will be required increasingly in the future as remote and hybrid work becomes more prevalent– which further reinforces why it is essential that we create a level playing field between remote and in-office workers and the environments in which they work.

Rob Cookson is the Vice President for Real Estate and Facilities at Facebook.