11 July 2018
Influential male voices need to take the message of gender equality to other men
Elizabeth Broderick, Special Rapporteur, UN Working Group on Discrimination Against Women, and former Australian Sex Discrimination Commissioner, 2007 to 2015
Men must step up beside women, so that promoting gender equality becomes everyone's business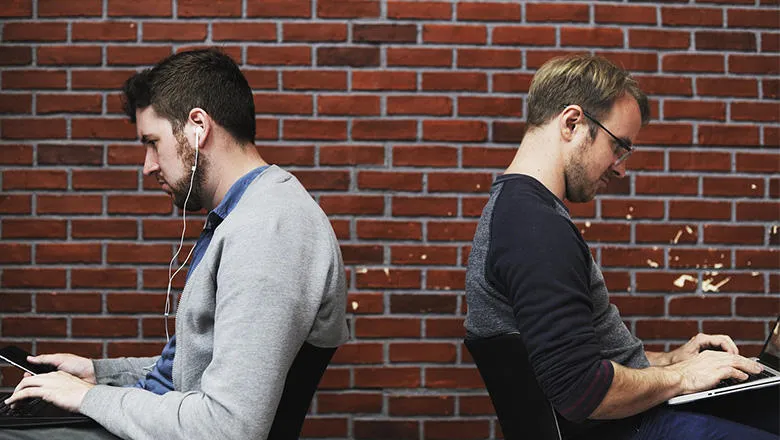 Men back to back
Over the last decade, from my work globally and in Australia, I have become convinced of two things. First, that gender equality is not a women's issue. It's a key social and economic issue; it's about the equal sharing of power between men and women in organisations and in nations. Second, that if we wish to accelerate progress, to disrupt the system, we actually need to focus on men.
Men largely, although not exclusively, hold the levers of power, so we need influential men taking the message of gender equality to other men. It's certainly not about their speaking for women or saving women – indeed, it has been women's activism by and large that has delivered much of the progress we see today. It's about men stepping up beside women, so that promoting gender equality and women's leadership becomes everyone's business.
This begs the questions, How do we engage men in an issue on which they have been largely absent? and, How do we get those with power to consider a gender-equal world where that power can be shared, for universal benefit?
Eight years ago, armed with these two insights, and such questions, I created the Male Champions of Change (MCC), when in my role as Australia's Sex Discrimination Commissioner. I literally picked up the phone and rang eight of Australia's most powerful and influential men – leaders of Australia's iconic companies like Telstra, Qantas, Commonwealth Bank and Woolworths – men who led global organisations like Citibank and IBM – men who hold the most senior roles in Government – Secretaries of the Departments of Prime Minister and Cabinet, the Treasury and the Army – and I made a personal plea: would these men use their power and influence, their collective voice and wisdom to step up beside women to create change in Australia?
I remember the first conversation I had to recruit the first MCC. This particular CEO had twins – a boy and a girl. We talked about the well-known statistics of gender inequality in leadership, pay inequity, and the rational 'business case', but what clicked for this CEO was his realisation that without intervention by decent powerful men, the story of inequality and opportunity denied would become his daughter's story. His daughter would never have the same opportunities as her twin brother – all because she was a girl. Not only did he understand the case for change with his head, he started to understand it with his heart.
Another founding MCC remarked, 'Let's not pretend that there aren't already established norms that advantage men. Men invented the system. Men largely run the system. Men need to change the system.' And with that, a key pillar of the MCC strategy was established – men changing the system (not 'fixing women', as so many other approaches had tried to do).
I hasten to add that women also have a strong place in the strategy – as key advisers, to inform the discussions and action taken by the MCCs. We ensure that the responsibility and accountability for change stays with the men and does not revert back to the women, with any failure to make progress being laid squarely at their feet.
Today, our coalition numbers 10 groups comprising 170 leaders. Together they directly represent over 1 million employees, or 6% of Australia's workforce. If we include our suppliers, customers, and partners like Chief Executive Women, the MCC footprint now covers the vast majority of the Australian workforce.
The Male Champions of Change is an extraordinary and evolving community, setting clear expectations for leadership, mainstreaming flexible work, committing to gender-balanced panels, establishing targets for gender equality and redefining the concept of merit to interrupt bias.
The MCCs have worked together to implement a strategy known as 'All Roles Flex', which is about changing the starting point of work. Supervisors must assess how flexibility will function in each particular job. Rather than an employee having to justify a flexible work arrangement, in those rare cases where the manager believes flexibility is not possible, it's up to the manager to justify why it can't be achieved. This has led to significant increases in men as primary carers and an uplift in employee engagement scores. It's bold and innovative and it is delivering as a new norm in contemporary workplaces.
The MCCs have also learned about how biases can influence the way merit is understood and applied, and how critical it is to confront the unintended obstacles that our use of merit presents. If we believe that men and women are equally able, equally talented in a company or a country, then we should be expecting a 50/50 outcome. That's why our MCCs always ask the question '50/50: if not why not?'. If we don't get a 50/50 result, then either bias or constraints are impacting the way we define merit. The MCCs believe 'merit', as currently defined, is a trap, and they've found that the more an organisation promotes themselves as a meritocracy, the more their managers show greater bias towards men over equally qualified women.
The global movement towards gender equality often seems profoundly uneven – a fragmented picture of acceleration in some contexts, such as the #MeToo campaign, and stagnation in others. But the backlash for those who promote gender equality and women's rights has become more pronounced in recent years. My meetings with human rights defenders across the world tell me that. I see public figures who speak out being exposed to responses which are more politicised and more personal than in the past. This is also true for the Male Champions of Change.
Bringing about change requires persistence and immense courage, but we must persist – all of us.