31 January 2018
Informatics wins two of 15 national grants
Academics in the Department of Informatics have been awarded two out of the 15 grants from Research Councils UK as part of the Global Challenges Research Fund (GCRF) recent competition on "Diagnostics, prosthetics and orthotics to tackle health challenges in developing countries". The grants went to Dr Panos Kosmas, Senior Lecturer, Department of Informatics, for developing a portable method for imaging the brain, and Dr Hongbin Liu, Senior Lecturer, Department of Informatics, for developing a soft endoscope with remote control capability. The Global Challenges Research Fund aims to 'support an internationally leading programme of research, centred around innovative healthcare technologies, to tackle the challenges faced by developing countries'.
Dr Panos Kosmas and Professor Yifan Chen
Panos' project aims to develop a portable, low cost system to detect and monitor strokes and their evolution during the patient's recovery. Microwave medical imaging uses radio waves to image the body, and is emerging as a low-cost, portable alternative to other screening methods, such as CT scans. In recent years, a few academic groups and companies worldwide are focusing their efforts in developing a portable scanner that can be used inside an emergency vehicle to detect stroke type and location earlier than with traditional scanning methods.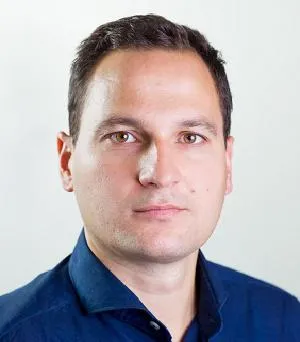 Dr Panos Kosmas
'We are delighted that we will be delivering this research in collaboration with Professor Yifan Chen [University of Electronic Science and Technology of China (UESTC)] and his team in China", says Panos. 'Yifan and I have been working closely together in relevant research for a few years, also as workgroup leaders of an EU COST action network on microwave imaging. This project will allow us to translate microwave imaging methods into a device that has to potential to save lives and revolutionise stroke treatment, especially in areas where access to expensive medical imaging system (MRI, CT etc.) is very difficult.'
The project will first focus on imaging simulations with computational brain models to optimise the scanner's design and performance. The team will create state-of-the-art head phantoms for use with the optimised device in test situations, in order to deliver a prototype that can be used in clinical trials across China.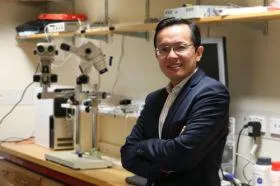 Professor Yifan Chen
'This is where we come in,' Professor Chen, who is also Professor of Engineering at the University of Waikato, was quoted in December 2017: 'Our main role will be prototyping the microwave scanner as well as production and commercialisation once the scanner is at a stage that it can be sold and distributed. We are working with a technology company in China, ET Medical, which promises delivery of the device faster than usual pathways to clinical use.'
 Working with King's College Hospital and a Chinese partner (Tianjin University), Hongbin's project aims to solve the unmet the needs of China's endoscopic gastrointestinal (GI) screening due to its large, aging population, insufficient infrastructure and high incidence of GI cancers. The team will develop a soft robot which can actively change its morphology, allowing it to propel itself safely inside the torturous and compliant colon. This proposed device will be a low cost, disposable soft endoscope for colon screening with an aim to extend it to other GI screenings. It can be operated by non-specialist staff with minimal training and be supervised or even controlled remotely by specialist clinicians via high-speed wireless communication and haptic interface. The success of this project could radically improve the accessibility of endoscopy in China, enabling clinicians in rural areas to perform safe and painless endoscopies with minimal training and also increase the population's accessibility to specialist clinicians.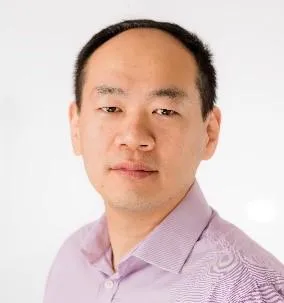 Dr Hongbin Liu
Hongbin explained: 'There is an increasingly huge gap between demands of GI screening and the capacity of hospitals worldwide, our technology will not only provide a safer, painless and more accurate colonoscopy, but also will significantly reduce the barrier of performing this procedure and greatly widen its accessibility to local clinics. Our ambition is to deploy the system in Chinese clinics eventually. Translating this new technology into clinical practice will be challenging and our team has all the expertise, passion and commitment to make this happen!'
Professor Shuxin Wang
The same vision is also shared by the Chinese partner, Professor Shuxin Wang, Vice President of Tianjin University and the Director of the Medical Robot Joint Research Center. He commented: 'we believe this new robotic endoscope could promote the popularization of endoscopic examination to the public and facilitate better distribution of medical resources in China, in particular for early diagnosis and prevention. This could significantly improve the status quo of Chinese digestive diseases.'
In this story