05 June 2019
Julia Gillard launches new podcast with Global Institute for Women's Leadership
We are delighted to announce the launch of our new podcast series next week on gender equality and women in leadership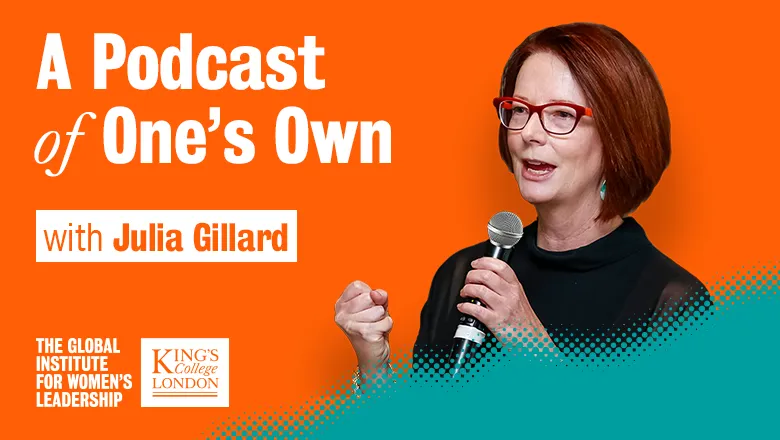 The Global Institute for Women's Leadership is excited to announce the launch of a new podcast series next week. Hosted by our Chair, Julia Gillard, the only women to have served as Prime Minister of Australia, the series will be a celebration of women leaders as well as a discussion about how to address the under-representation of women in leadership.
In each episode Julia will be in conversation with well-known female leaders from a range of different fields, including business, entertainment, media and activism. Guests will share stories from their lives, including successes they've had and challenges they've faced as women leaders in their sector. Through the discussions, Julia and her guests hope to provide valuable insights about what needs to be done to further gender equality and get more women into leadership positions.
Watch the podcast trailer
The podcast is being recorded and produced in the Virginia Woolf Building – our headquarters at King's, which provided the inspiration for the title of the series: A Podcast of One's Own with Julia Gillard. The show aims to create the space for women leaders to discuss these issues, much like Virginia Woolf aspired for women authors to have the space to write "in a room of one's own". 
Julia Gillard said:
"I'm delighted to be launching a new podcast series with the Global Institute of King's College London, which I hope will be fun, entertaining but also enlightening.
"In each episode I'll be putting a spotlight on women leaders from all walks of life. By celebrating their stories and learning the lessons from their lives, I hope we can all gain a better understanding about what needs to be done so more women get to lead."