15 June 2017
Katie Lentakis Award 2017: Winner Announced
The winner of the Katie Lentakis Award 2017 has been announced as Classical Studies final year student Eliza Vierny.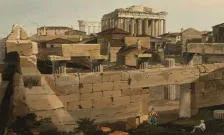 The annual Katie Lentakis Memorial Fund Award was established by the Anglo-Hellenic League in memory of the late Mrs Katie Lentakis, and was first awarded in 2002. Katie Lentakis (1920-2000) was a devoted member of the Anglo-Greek community of London for many years and Vice-Chairman of the Anglo-Hellenic League, who loved music and art – and had helped British soldiers to escape in Greece during World War II.
The Award is made to a final year undergraduate studying in the Faculty of Arts & Humanities at King's College London who submits an essay of 7,000-10,000 words on a topic related to any field of Hellenic Studies.
The winner of the 2017 award is Eliza Vierny, for an essay entitled 'The classicist as artist: Reinterpreting Oscar Wilde's New Hellenism', supervised by Professor Hugh Bowden.
Fifteen entries were received this year, from students of three departments, Classics, Comparative Literature, and History. Once again the standard was extremely high, with several entries judged outstanding:
The award was presented to the winner by Mr Gerald Cadogan, Chairman of the Anglo-Hellenic League, during a reception on Tuesday 13 June.