11 October 2021
King's alumna wins big at Santander X Entrepreneurship Awards
Wembley Stadium hosted yesterday's final of the Santander X Entrepreneurship Awards, won by Josephine Philips, Physics graduate and founder of Sojo. Tackling sustainability in the fashion industry, Sojo provides a Deliveroo-style app for clothing alterations.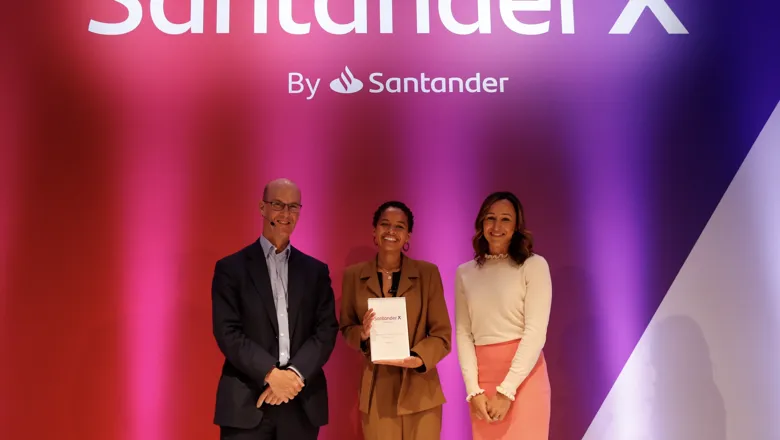 The Santander X Entrepreneurship Awards is the UK's largest student business competition. This year, 70 businesses founded by students or graduates from the country's top universities pitched for the opportunity to win £75,000 in business support, including £50,000 of equity-free seed funding.
One of those businesses was Sojo, launched last year by King's alumna Josephine Philips (BSc Philosophy and Physics 2021). Building on Josephine's long-held passion for sustainable fashion, Sojo is a Deliveroo-style platform for clothing alterations that connects users with local seamsters.
The idea was an immediate success and went on to be supported by the Entrepreneurship Institute, initially as one of the winners of Idea Factory 2020 and then through the King's20 Accelerator in 2020-21. It has since gone on to be downloaded thousands of times and has been featured in publications including British Vogue and iNews. This latest success at the Santander X Entrepreneurship Awards further exemplifies Sojo's inventiveness and is another well-deserved plaudit for its creator.
The judging panel that selected Sojo was made up of leading figures including Dame Jessica Ennis-Hill, former Olympian and entrepreneur; Yvonne Bajela, early-stage investor and Board Director at Innovative Finance; Oliver Kent-Braham, Co-Founder & Co-CEO at Marshmallow; and William Vereker, Chairman of Santander UK.
Congratulations to Josephine from everyone at King's, especially Julie Devonshire and the team at the Entrepreneurship Institute.