16 April 2018
King's CMCI Department to host Media Industries Conference 2018
King's CMCI Department to host Media Industries Conference 2018.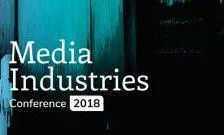 Media Industries Conference 2018
The second semester may be over, but CMCI is getting into full international research mode as we host the Media Industries Conference 2018. Under the theme "Current Debates and Future Directions", the three-day event provides an interdisciplinary forum for reviewing the past and present state of media industries research, together with future directions in the field.
The conference chair, CMCI's Professor Paul McDonald, notes the range of disciplines involved in the conversation, including the political economy of communications, sociology of media occupations and institutions, media economics, media management, and media industry historiography, together with critical and cultural studies.
Our international plenary speakers come from: Queensland University of Technology, Australia; Lund University, Sweden; the University of California; Northwestern University in Qatar; RMIT University, USA; Université Grenoble Alpes, Switzerland; University of Texas, Austin; Tallinn University, Estonia; and the University of Rhode Island.
The host committee includes CMCI's Dr Bridget Conor, Dr Virginia Crisp; Professor Jeanette Steemers, and our Head of department Dr Sarah Atkinson, who has provided a note of welcome in the conference programme.
The conference takes place at King's College London's Strand Campus from 18 to 20 April 2018. Further information, including a list of our sponsors, is available at: https://media-industries.org/
This news originally featured on the Department of Culture, Media and Creative Industries blog, Lost in CCI. 
In this story