09 October 2020
King's Principal receives Knighthood
Professor Edward Byrne, President & Principal of King's College London has been awarded a Knighthood in the Queen's Birthday Honours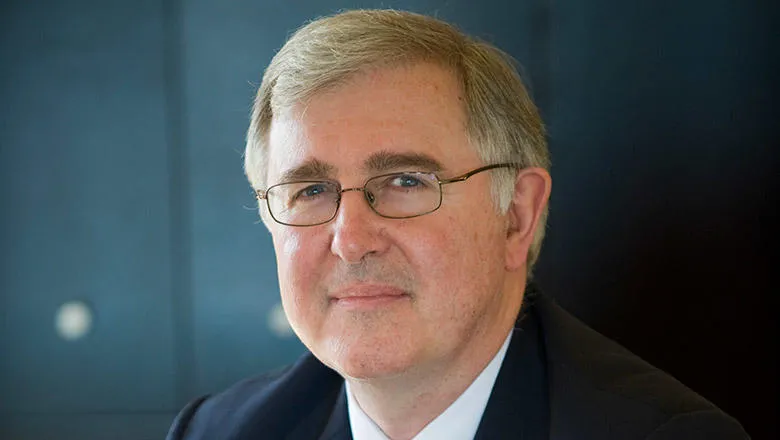 Originally trained as a neuroscientist, Professor Byrne's research contributions have been in the field of mitochondrial medicine and neuromuscular disorders. Professor Byrne was admitted as an Officer of the Order of Australia in 2006 and a Companion of the Order of Australia, Australia's highest honour, in 2014.
In welcoming the news, the Chairman of King's College London, Lord Geidt, said:
'I am delighted to learn that Professor Edward Byrne, President & Principal of King's College London, has received the honour of a knighthood from The Queen. This is a wonderful tribute to his long and distinguished career as an eminent medical practitioner and gifted academic leader. It is also a tremendous honour for King's which, under Professor Byrne's leadership, has worked tirelessly to build its reputation for outstanding teaching and research, in harness with an explicit commitment to the service of society. On behalf of the entire King's community, I am delighted to extend warmest congratulations to our President & Principal on this accolade.'
Professor Byrne became President & Principal of King's in August 2014. At King's he has established a new university mission and Vision for 2029, significantly increased the range of degrees and programmes available to students as well as founded the King's Business School and redeveloped the School of Engineering within the Faculty of Natural & Mathematical Sciences. It is under Professor Byrne's stewardship that King's acquired Bush House as a building for the university's Strand campus. Through his work and links in industry and business, King's now has grown its global links as well as partnerships within London.
Professor Byrne embodies King's quest to deliver real impact and value and to create lasting and positive change within society and emphasises the strong focus on teaching and research excellence and supporting students and enhancing student experience is incredibly important to him. While he has been in the role of President & Principal, King's has become a sector leader in supporting entrepreneurial thinking, skills and experiences amongst students, staff and alumni. Just last year, a pioneering project – Parent Power – which harnesses the potential of parents to inspire young people from underrepresented groups to pursue higher education, was awarded the Guardian's social and community impact award. That same year, King's School of Biomedical Engineering & Imaging Sciences was awarded the Queen's Anniversary Prize for higher and further education. The prestigious award, which is granted every two years by the Queen, validates our focus on developing state-of-the-art medical technology based on patient-centric research. This will ultimately lead to improved diagnosis, treatment and patient care. There is stiff competition for the Prize and it is a mark of high-quality education, training and impact on the public. Professor Byrne also played an instrumental role in the establishment of the PLuS alliance.
A graduate of the University of Tasmania, and completing his training in Adelaide, Australia, Professor Byrne's distinguished career spans more than 40 years and has covered clinical, research and leadership roles at University of Melbourne, Monash University and King's College London. While completing his doctorate at the Institute of Neurology Queen Square Professor Byrne received the Queen Square prize for neurological research.
His leadership career began in the 1980s when he became Director of Neurology at St Vincent's Hospital and then he was appointed Professor of Clinical Neurology at the University of Melbourne in 1992. He was a founding director of the Melbourne Neuromuscular Research Unit and the Centre for Neuroscience in 1993. He was also made Professor of Experimental Neurology at the University of Melbourne in 2001
He joined Monash University as the Dean of the Faculty of Medicine Nursing and Health Sciences, a role he held from 2003 until 2007. Then he was appointed the Vice Provost (Health) at University College London (UCL). He held that position until becoming the eighth University President and Vice-Chancellor at Monash University in 2009.
He holds a Doctor of Medicine from the University of Tasmania and a Doctor of Science from the University of Melbourne, a higher degree conferred in recognition of a demonstrated record of research excellence. He was elected a Fellow of the Academy of Medical Sciences in 2019 and has honorary professorships from UCL, Warwick University and Peking University and Honorary Degrees from the University of Adelaide, Warwick University and Western University as well as a Distinguished Visiting Professor at Tsinghua University. He was also awarded an Honorary Doctorate of Law by Monash University in 2017 and last year a Doctor Medical Sciences (Honoris Causa) from the University of Sydney.
He is a fellow of the Royal Australasian College of Physicians, the Royal Colleges of Physicians of London and Edinburgh, the American Academy and the American Association of Neurology. Professor Byrne has held many prestigious clinical and research positions in Australia and the UK, as well as advisory roles for a number of charitable bodies relating to his clinical and scientific expertise.
Other King's staff, student and alumni recognised in the Queen's Birthday Honours this year include Professor Anne-Marie Rafferty who is awarded a Damehood, and Professor Tim Spector and Dr James Rubin who both received an OBE for contributions to health services particularly during the Coronavirus pandemic. Another member of the extended King's community, Felicia Kwaku, Associate Director of Nursing at King's College NHS Foundation Trust is recognised with an OBE for her work supporting Black, Asian and Minority Ethnic nurses during the pandemic. Lt Col Simon Horne, a research student in the Comprehensive Cancer Centre was also awarded an OBE for his services to both pandemic response and Defence Healthcare Engagement with Conflict & Health Research Group at King's. 
The Queen's Birthday Honours lists recognise the achievements of a wide range of people from across the UK. More information and the full Honours list for 2020 can be found here
In this story