22 May 2018
King's spin-out company awarded government funding to support new generation of cancer treatments
A spin-out company created by King's academics Dr Sophia Karagiannis and Professor James Spicer has secured a £1.45million grant to develop new and more effective cancer treatments.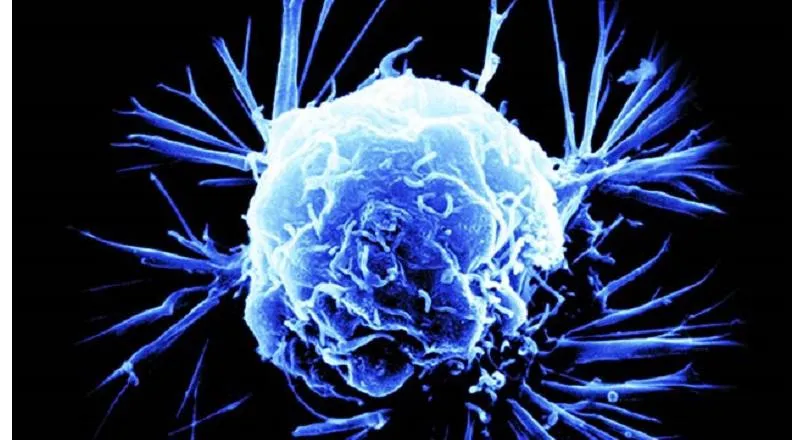 Cancer cell
IGEM Therapeutics, an immuno-oncology company developed by the King's scientists, received the Biomedical Catalyst award from Innovate UK, the UK's innovation agency, in recognition of its ground-breaking work to develop novel immunoglobulin E (IgE) antibodies to treat cancer.
IGEM will use the funding to further the development of IGEM-Ch, an IgE antibody that targets solid tumours. IGEM-Ch binds to the cancer antigen CSPG-4 antigen which is overexpressed in various cancers, including melanoma. 
Pre-clinical studies undertaken by Dr Karagiannis's team demonstrated that an anti-CSPG-4 IgE outperformed an equivalent IgG antibody.
Speaking about the award Dr Karagiannis said: 'We are delighted to have contributed proof of concept efficacy data in challenging pre-clinical studies. These supported further evaluations of IgE class antibodies in different solid tumour indications and have laid the foundations for this successful award.
'We are now pleased to join forces with IGEM to progress with this exciting translational programme towards GMP manufacturing and clinical studies.'
Dr Tim Wilson, Chief Executive Officer of IGEM, said: 'IGEM is a pioneer in the use of IgE antibodies to treat cancer. We are very proud to have received significant funding from Innovate UK which will help us take our second antibody, IGEM-Ch, into the clinic.
'Our goal is to harness the potency of the IgE-mediated immune response and thereby provide patients with new safe and effective treatment options for these serious diseases.'
Use the following link to read the IGEM press release: https://igemtherapeutics.com/igem-announces-funding-ige-antibody/
About Innovate UK
Innovate UK is the UK's innovation agency. It works with people, companies and partner organisations to find and drive the science and technology innovations that will grow the UK economy. For further information visit www.innovateuk.gov.uk