04 January 2021
King's Staff Recognised in New Year's Honours
King's College London is delighted to announce that King's staff members have been recognised in the 2021 New Year's Honours list.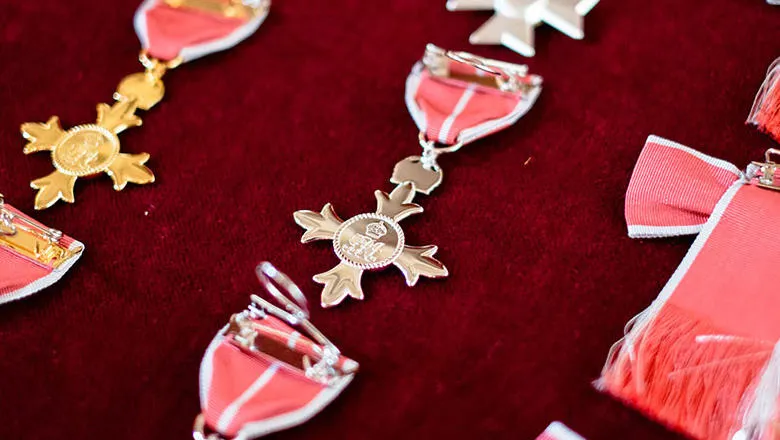 Dr Mary Patricia Sheridan, Newborn and infant physical examination (NIPE) Lead and Midwifery Lecturer, Guy's and St Thomas' NHS Foundation Trust and King's College London has been recognised for services to Midwifery in the NHS. Mary has been a midwife at Guy's and St Thomas' for 32 years and a lecturer at King's College London for 19 years. Since 2011, Mary has been the lead midwife for NIPE at St Thomas' Hospital, which screens babies within 72 hours of birth for conditions relating to their heart, hips, eyes and testes. She also worked with Public Health England to introduce the NIPE Smart System, which tracks newborn babies throughout the screening pathway and provides a failsafe system to ensure no babies miss out on this detailed physical examination. This was piloted at St Thomas' Hospital and then rolled out nationally.
Mary worked during the festive period, examining 44 babies over six days as part of the NIPE programme at St Thomas' Hospital. Mary said: "I was so surprised to receive an email saying I'd been nominated for a medal. It's great that midwifery has been recognised as a profession in the New Year Honours list."
Dr Azeem Alam (Medicine, 2017), a Clinical Teaching Fellow and King's alumnus received the BEM for services to medical education during COVID-19. The 28-year-old founded BiteMedicine, which has provided free medical education for medical students, physician associates and aspiring doctors during the pandemic, teaching more than 10,000 students worldwide via online, live webinars.
Azeem, who has worked in the emergency department during the pandemic, said: "After receiving the initial email that I had been recommended by the Prime Minister for the honour of a British Empire Medal, I was in complete disbelief, and still am. I told my family as soon as I was able to and they were equally shocked.
"I am earnestly grateful for the recognition that my work within medical education during COVID-19 has received, and I hope that BiteMedicine continues to grow beyond the pandemic. With the ongoing development of the BiteMedicine Foundation, I aspire for the platform to raise awareness of chronic medical conditions, as well as money to contribute to the care of patients with these conditions.
Professor Francesca Gabrielle Happe FBA, Professor of Cognitive Neuroscience, King's College London has been honoured for services to the Study of Autism. For the last 30 years, Francesca's primary research focus has been autism and has explored the nature of social understanding in neurotypical development and 'mentalising' difficulties in autism. She is also actively engaged in studies of abilities and assets in autism, and their relation to detail-focused cognitive style. Some of her most recent work focuses on mental health on the autism spectrum, and under-researched subgroups including women and the elderly. Francesca's research methods have spanned cognitive experiments, functional neuroimaging, exploration of acquired brain lesions, and behaviour genetic approaches.
Dr Asha Thomson, Speciality Dentist in Oral and Maxillofacial Surgery, Senior Clinical Leadership Fellow East Anglia NHS England and Senior Clinical Teacher in Oral Surgery, Kings College Hospital London. Asha has been recognised for services to the NHS, particularly during the Covid-19 Response.
The New Year Honours lists recognise the achievements of a wide range of people from across the UK. More information and the full New Year's Honours list for 2021 can be found here.
In this story