27 May 2022
King's to host major conference to find solutions to the ISIS fighters, women and children detained in Syria
Policymakers, diplomats, experts and high profile commentators will gather to discuss what to do about the thousands of ISIS detainees imprisoned in north-eastern Syria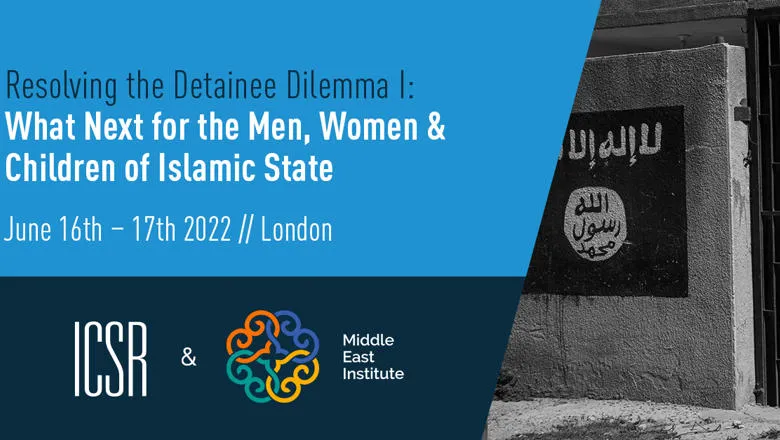 A major two-day conference aimed at finding solutions to the thousands of ISIS prisoners detained in north-eastern Syria will take place at King's College London 16-17 June.
Resolving the Detainee Dilemma I: What Next for the Men, Women & Children of Islamic State is first of two major transatlantic conferences on the issue of ISIS detainees, organised by the International Centre for the Study of Radicalisation (ICSR) at King's, in partnership with the Middle East Institute in Washington DC. The second conference will take place in Washington on 13 July.
These events will be the first serious attempt to resolve the dilemma of what to do with the thousands of ISIS fighters, women and children still detained in prison. They will feature high-profile, keynote speakers and conversations, moderated by prominent public figures. The events will be covered by domestic and international media – seeking to shine a public spotlight on this pressing issue.
Alongside panels featuring policymakers, diplomats and experts in counterterrorism and international law, keynote speakers for the London conference include Professor Gilles Kepel, Chair of Middle East and Mediterranean Studies, Ecole Normale Supérieure, Paris, Anthony Loyd, the Times journalist who first discovered school girl Shamima Begum in an ISIS camp in Syria, and Omar Mohammed, a historian from Mosul, known until recently as the anonymous blogger 'Mosul Eye'.
Three years after the territorial defeat of ISIS's self-claimed 'Caliphate,' approximately 12,000 captured male fighters and a further 60,000 women and children still languish in makeshift prisons and poorly resourced, secure camp facilities in northeastern Syria. This represents an acute and immediate security challenge, as well as a troubling humanitarian crisis – neither of which appear close to resolution.
As recently January 2022, ISIS's week-long assault on the al-Sina Prison in Hasakeh governorate served as a stark warning of how vulnerable these detention facilities are to attack, with dozens of prisoners escaping, including several senior commanders. To this day, no judicial mechanism has been established to charge or prosecute foreign detainees being held in Syria, let alone repatriate them for justice at home.
Amongst the detainees, at least 65% are children and 13,150 are citizens of 60 countries other than Syria or Iraq. More than 700 camp residents have been killed or have died of untreated disease in since 2019 – half of them children. Yet, many Western governments have resisted calls to repatriate women and minors, citing security concerns, political constraints, and judicial limitations. At the current rate of repatriation, it would take at least 30 years to bring all children home.
Director of the ICSR and lead conference organiser, Dr Shiraz Maher said:
"We are now three years on since the fall of ISIS' territories in north-eastern Syria, yet no progress has been made by the international community in deciding what to do with the thousands of former ISIS fighters and the tens of thousands of women and children suffering in very poor conditions in prison.
"Finding a lasting and equitable solution to this issue has never been more urgent, and we envision that in-depth and expert-led discussions at our conferences in London and Washington, will refocus minds on this challenge lead to concrete policy solutions."
Throughout the conference there will also be the opportunity to participate in Nobody's Listening: The Forgotten Voices of Sinjar; a ground-breaking virtual reality experience that transports viewers to northern Iraq using a blend of 360-degree documentary film-making, stunning Yazidi artwork and the latest virtual reality technology. Users can choose to follow one of several narratives, including hearing from a young Yazidi woman abducted and sexually enslaved by ISIS, her brother who survives a massacre, and an ISIS fighter who attacks the village.
The conference Resolving the Detainee Dilemma I: What Next for the Men, Women & Children of Islamic State takes place on 16-17 June in Bush House, King's College London. The event is in person and open to the public. If you'd like to attend please register your place here.
In this story