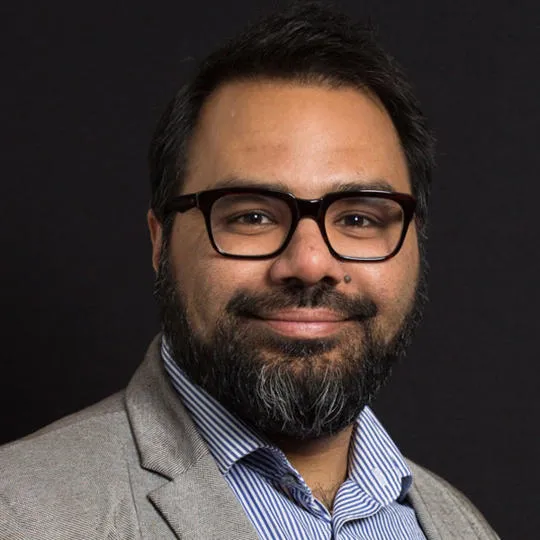 Dr Shiraz Maher
Senior Lecturer
Director of International Centre for the Study of Radicalisation
Contact details
Biography
Dr Shiraz Maher is a lecturer in non-state actors within the Department of War Studies and also serves as Director of the International Centre for the Study of Radicalisation (ICSR), an academic research centre within the department.
He is a historian by training and is primarily interested in the development of Islamic political thought, particularly the use of theology by reactionary and militant movements. Dr Maher also works on the Syrian Civil War, the internationalising of the conflict, and the foreign fighter phenomenon. More recently, he has been looking at how non-state actors provide alternative administration in newly ungoverned spaces across the Middle East and North Africa. He is also interested in Saudi Arabia and its plans for reform under Vision 2030.
His book, Salafi-Jihadism: The History of an Idea (Oxford University Press; Hurst & Co; Penguin) has been widely acknowledged as a ground-breaking exploration of the political philosophy behind contemporary jihadist movements. It has been described as "a masterclass in how to do intellectual history" by Tom Holland and was picked as a book of the year by Foreign Affairs magazine for 2017. The Guardian also listed it amongst its "best books to understand modern terrorism," in 2019.
Dr Maher is also a contributing writer for the New Statesman, writing on the Syrian crisis and the broader Middle East. Much of his work is based on fieldwork conducted across the world, including interviews with members of the Taliban, al-Qaeda, Jabhat al-Nusrah, Ahrar al-Sham and the Free Syrian Army. He has interviewed more than 100 Western foreign fighters in Syria and Iraq.
He has subsequently given evidence before two parliamentary committees looking at the Syrian conflict, the flow of foreign fighters into the country, and the rise of Islamic State. Dr Maher has also consulted widely with industry on the terrorist threat in Britain and elsewhere. Recommendations he made in 2018 about ways to mitigate the risk of vehicular attacks led to the creation of the Rental Vehicle Security Scheme (RVSS), aiming to embed a proactive security culture within the vehicle rental industry.
Dr Maher was shortlisted for the Orwell Prize in 2016 for his pieces on radicalisation, foreign fighter mobilisation, and the terrorist threat to Europe. He also received the prize for 'Excellence in Research Innovation and Impact,' at the King's Awards in 2015.
Research Interests
Intellectual history of millenarian movements in the Middle East
Radicalisation, terrorism and security studies
The Syrian Civil War and foreign fighters in that conflict
Governance by non-state actors
Teaching
Dr Maher is co-convener for the MA on Terrorism, Security and Society.
He teaches on the following modules (and guest lectures on a wide variety of others):
Terrorism and Counter Terrorism (MA)
Understanding Political Islam: Theory, Thinkers and Movements (MA)
The War on Terror (BA)
He currently supervises PhD candidates working on Jabhat al-Nusra in Syria, Hashd al-Shabi in Iraq, the Muslim Brotherhood in Libya, and constructions of white ethnonationalist identity among the far-right in Europe.
Please note Dr Maher is not taking any further PhD students at present.  
Publications
Select publications include:
Salafi-Jihadism: The History of an Idea (Oxford University Press; and Hurst & Co.)
"The primacy of praxis: Clerical authority in the Syrian conflict," in Charles Lister and Paul Salem, editors, Winning the Battle, Losing the War: Addressing the Drivers Fueling Armed Non-State Actors and Extremist Groups, Washington, D.C.; Middle East Institute.
"What religious ideology is claimed and projected by jihadi terrorism? What religious traditions, if any, is it derived from?," in Anthony Richards, editor, Jihadist Terror: New Threats, New Responses, London; IB Tauris.
Al-Qadā' wa-l-Qadr: motivational representations of divine decree and predestination in salafi-jihadi literature, British Journal of Middle Eastern Studies, DOI: 10.1080/13530194.2017.1361317 (2017; co-authored with Alexandra Bissoondath)
Greenbirds: Measuring Importance and Influence in Syrian Foreign Fighter Networks, ICSR (April 2014; co-authored with Joseph Carter and Peter Neumann)
The Arab Spring and its impact on supply and production in global markets, European Centre for Energy and Resource Security, (October 2013)
Between 'engagement' and a 'values-led' approach: Britain and the Muslim Brotherhood from 9/11 to the Arab Spring, in Western reactions to the rise of Islamists in the MENA (Al-Mesbar, January 2013; co-authored with Martyn Frampton)
"Change and Continuity: Hizb ut Tahrir's strategy and ideology in Britain", in Eileen Barker, editor, Revisionism and Diversification in New Religious Movements. Ashgate. 2012.
Cook, J., & Maher, S. (Eds.). (2022). The rule is for none but Allah: Islamist approaches to governance. Hurst & Co.
Dr Maher's articles in the New Statesman as a contributing writer since 2014 can be found here.