20 April 2018
Male entrepreneurs are 'young and promising'; female entrepreneurs are 'young, but inexperienced'
Laura Jones, Research Associate
… And four other things we took away from the Stockholm Gender Forum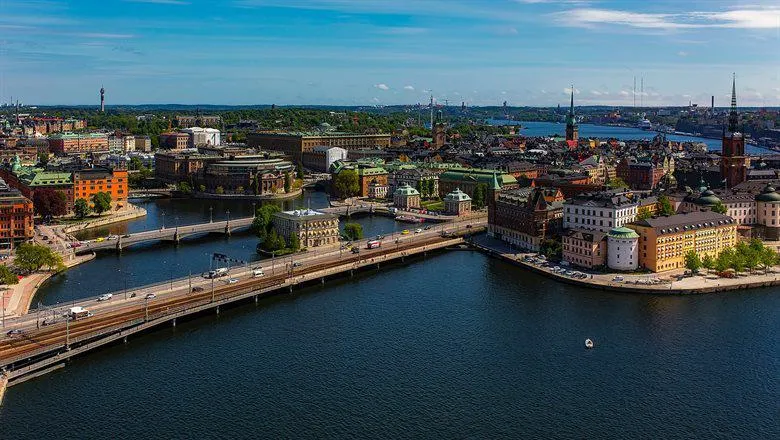 Stockholm
Last week activists, policymakers and changemakers travelled to Sweden for the Stockholm Gender Forum. With hundreds of participants from around the world and a closing keynote given by the acclaimed writer Chimamanda Ngozi Adichie, author of We Should All Be Feminists, the conference was designed to drive forward change towards gender equality. Here are five of the takeaway moments for those of us watching #StockholmGenderForum from home.
1. Male entrepreneurs are 'young and promising'; female entrepreneurs are 'young, but inexperienced'
Women own a third of Swedish businesses yet receive just 7% of government venture capital financing, despite Sweden's rank as number one in the EU gender equality index. Curious to explain this gap, researchers from the Luleå University of Technology analysed the way that 11 venture capitalists spoke about 126 entrepreneurs. The research revealed striking differences in the way that male and female entrepreneurs were described.
| | |
| --- | --- |
| Male entrepreneurs are | Female entrepreneurs are |
| Young and promising | Young and inexperienced |
| Aggressive, but a good entrepreneur | Enthusiastic, but weak |
| Sensible and level-headed | Too cautious, and do not dare |
| Experienced and knowledgeable | Experienced, but worried |
| Very competent innovators and already have money to play with | Good-looking and careless with money |
When the researchers compared these comments against the key performance indicators (growth, debt-to-equity ratio, profitability, etc) of the entrepreneurs' businesses, they found no statistically significant gender differences.
2. Four out of five articles about people on Wikipedia are about men and 90% of the content on there is created by men
This sobering statistic is a reminder of just how far we have to go in some areas, even as progress is made in others. Knowledge is power, and as the world's go-to encyclopaedia, Wikipedia provides many of us with our first (and sometimes last) insight into a topic. There is an inevitable danger if knowledge is only created by or reflective of one group in society.
To try to bring change, the Swedish Ministry for Foreign Affairs, in association with Wikimedia, organised edit-a-thons in 50 countries around the world on International Women's Day. The initiative was part of the Swedish government's feminist foreign policy.
3. Women in the OECD do nearly twice as much unpaid work as men
In every country men have more leisure time each day, while women spend more time doing unpaid work. The difference is biggest in India, where women spend 5 hours 51 minutes each day on unpaid work, including housework, shopping, child and adult care, while men spend just under an hour. Portugal has the largest gap in the EU, with women spending 5 hours 28 minutes on unpaid work, compared to men's 1 hour 36 minutes. Here in the UK, women spent 4 hours 8 minutes every day on unpaid work, versus 2 hours 20 minutes for men.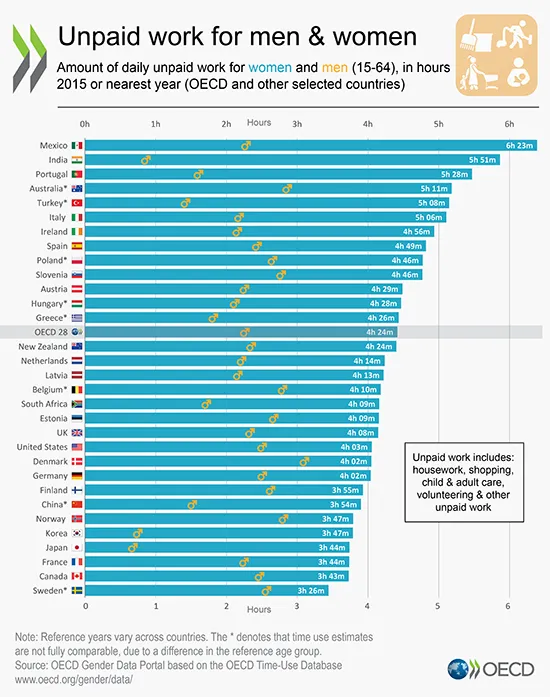 Unpaid work for men and women
Most of the conversations we have around gender equality focus on reducing this 'second shift' for women. But what if we thought instead about how we can place more value on it – and redistribute it to men?
4. Women make up just 9% of those at the table during peace processes
War affects men and women differently, and yet between 2002 and 2011 women made up just 2% of chief mediators and 9% of peace negotiators.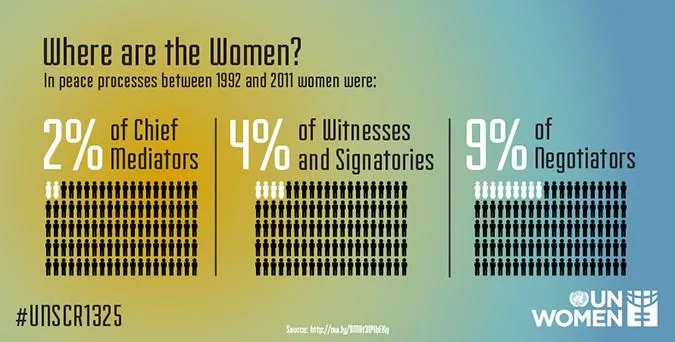 Where are the women in peace processes?
When women are involved in peace processes there is a 20% increase in the chance of an agreement lasting at least 2 years, and a 35% increase in the probability of an agreement lasting 15 years.
5. It's not a glass ceiling; it's a thick layer of men!
Finally, Margot Wallström, Swedish minister for Foreign Affairs, shares her thoughts on what's holding back change: it's not a glass ceiling; it's a thick layer of men!
If you think about it this way, she says, it makes it 'a bit easier to realise that you can come through'.