26 February 2020
Memorial for Sir Michael Howard, remembering Britain's greatest practitioner of military history
The Memorial Service for Sir Michael Howard was held at the King's College London Chapel on Tuesday 25th February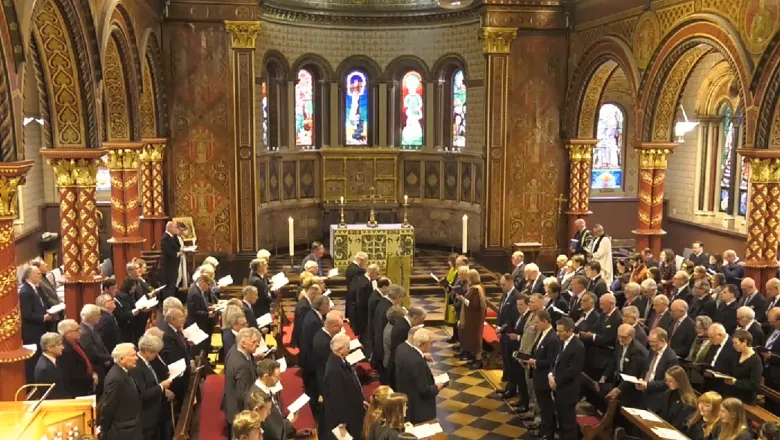 On Tuesday 25th February Sir Michael Howard's friends and family gathered in the Chapel at King's for a celebration of his life and achievements. Organised by The Sir Michael Howard Centre for the History of War and attended by King's College London President and Principal Ed Byrne, Chair of the Council Lord Geidt and royal representatives. The Queen and The Duke of Edinburgh were represented by the Lord Janvrin, GCB, GCVO, QSO. The Princess Royal was represented by Professor Wendy Thomson, CBE. The Duke of Kent was represented by the Lord Fellowes, GCB, GCVO, QSO.
The service began with a welcome, bidding prayer and hymn by the College Chaplain, Rev Tim Ditchfield FKC, followed by a reading from Michael's memoir 'Captain Professor' by General Sir Nick Carter, GCB, CBE, DSO, ADC Gen, Chief of the Defence Staff, reflecting on Michael's time in the Army: from Michael joining the Coldstream Guards, to being awarded the Military Cross for bravery in combat in the Italian Campaign and his continued major influence on the strategic and defence policy of the country.
Beim Schlafengehn, one of Strauss's last songs was beautifully sung by Amanda Pitt, goddaughter of Michael's life partner Mark James, who sadly also passed away in February.
Sir Lawrence Freedman spoke about Michael's qualities as a lecturer. Many of his publications began as lectures which explained their length and lucidity. He described how after Michael joined King's in 1951, he gained autonomy from the History Department and was eventually able to establish the Department of War Studies. Although his book on the Franco-Prussian War ensured his reputation as a top rank historian his vision for War Studies, reflecting his own experiences both as a soldier and as a defence commentator, was that it should be broad and interdisciplinary. The department's foundational ethos still shapes its work even though it has now grown much larger.
Sir Adam Roberts reflected on having first met Michael in the early 1960s and how he had been an early mentor in his career. Sir Adam spoke of Michael's time at Oxford, from gaining his degree at Christ Church to Fellow at All Souls, Chichele Professor of the History of War and ending as Regius Professor of Modern History, before he took a final position at Yale. University of Oxford. He also mentioned Michael's role as a Fellow of the British Academy and as one of the founders of the International Institute for Strategic Studies. 
Gebet 'Prayer' was played by violinist Catherine Abela, a pupil and Simon Williamson, Director of Music at Wellington College where Michael spent some happy years and developed his love of music.
Sir Max Hastings conducted a tribute about his lasting friendship with Michael. Framed with humour, Sir Max described spending hours discussing Agatha Christie, current affairs, including modern conflicts abut also climate change, and how historical events had shaped the present. On a personal note he reflect on how Michael was a devoted family man, accompanied for over half a decade by Mark James, who had sadly died two months after Michael. This had been a relationship filled with laughter, insight and wit. 
Ascension Hymn was chosen specifically by Michael as it reminded him of friends and colleagues he lost in World War II. The poem was brilliantly read by Michael's godson Rupert Frazer. This was followed by The Last Post, sounded by a serving drummer from the Coldstream Guards and the service was concluded with a blessing by Rev Tim Ditchfield.
Sir Max Hastings