17 July 2018
Men nearly four times more likely to be quoted in UK media as an expert source
New research looks at the gender balance of those quoted as experts by UK media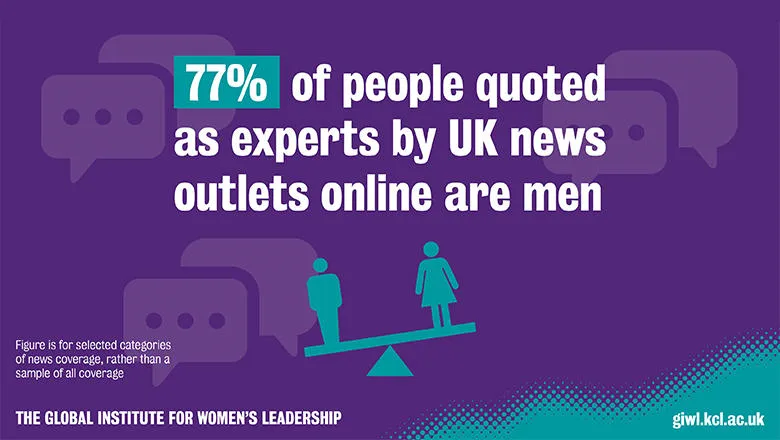 Gender balance of expert sources quoted by UK media
New analysis commissioned by the Global Institute for Women's Leadership at King's College London found that 77 per cent of people quoted as experts in online news articles by the main UK news outlets are men.
Published today, the research looks at the gender balance of expert sources used by a sample of UK media across eight types of news coverage, revealing that women are significantly underrepresented:
Business/finance: 86% men compared to 14% women
Tech: 76% men compared to 24% women
Domestic politics: 69% men compared to 31% women
Foreign news: 78% men compared to 22% women
Foreign politics: 87% men compared to 13% women
Social policy: 52% men compared to 48% women
Science/health: 71% men compared to 29% women
Nature/environment: 73% men compared to 27% women
Researchers analysed a representative sample of all news articles published online by leading UK media outlets across a seven-day period in April (19th to 25th). In total, there were 1,112 articles across the eight categories of story listed above which contained at least one identifiable quote from an expert source. 1,825 sources were featured overall. An 'expert source' was defined as someone who had provided a quote based on their knowledge, job role or other position of influence.
Averaging the gender balance over these categories produces a split of 77 per cent men compared to 23 per cent women. This uneven split partly reflects the gender imbalances in these fields, with women underrepresented at the top of many professions.
Laura Jones, Research Associate at the Global Institute for Women's Leadership, said:
'These figures are disheartening. While it is true that women are underrepresented in roles where they might be considered experts, we would encourage news outlets to be more proactive in seeking women experts to ensure a range of voices are heard. For instance, the latest data shows that women make up 22 per cent of senior business managers in the UK, however, women make up just 14 per cent of expert sources quoted in business and finance coverage.'
'Ultimately we would like to see an increased representation of women experts in the public conversation, which would send a strong signal from the media that their opinions are considered credible and authoritative.'
This analysis comes as a number of new initiatives seek to address the gender balance of news organisations' sources. This year, the BBC pledged to achieve a 50/50 gender split of expert contributors by April 2019, and online databases of female experts have been created in several fields, including technology policy and political science.
ENDS
Notes to editors
The analysis was conducted by the Centre for the Study of Media, Communication and Power, on behalf of the Global Institute for Women's Leadership.
The Global Institute for Women's Leadership at King's College London was established in April 2018 by the Julia Gillard, the 27th Prime Minister of Australia and the only woman to ever serve in that role. The Institute will bring together rigorous research, practice and advocacy to better understand the causes of women's underrepresentation in leadership, and is working to disseminate robust evidence on the best approaches to promoting women's advancement.
For a more detailed breakdown and explanation of the findings and methodology, please see this briefing document (pdf).
For further media information, please contact George Murkin, Communications Manager, Global Institute for Women's Leadership: george.murkin@kcl.ac.uk / 020 7848 7443