22 January 2020
MSc and BSc graduands return for their graduation ceremony
King's Business School student wins Wellington Medal for outstanding performance and potential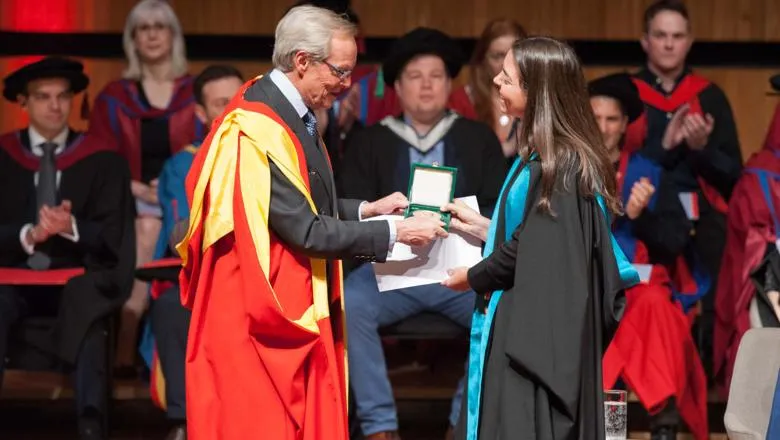 Joana Barata receives the Wellington Medal from Charles Wellesley, the 9th Duke of Wellington and former Chairman of the King's College London Governing Council
New King's Business School MSc graduates from nearly 70 countries received their degrees at the Royal Festival Hall today. 
Graduating alongside them was Joana Barata, who received the second ever King's College London Wellington Medal from the Duke of Wellington.  The award was created by the current Duke of Wellington to recognise outstanding academic performance and potential for the future. 
Joana completed her BSc in International Management in the summer, graduating with First Class Honours and achieving an exceptional performance across all her modules, displaying critical and independent thinking, strong communications skills and advanced mathematical and technical capability. 
During her time at the Business School she played a key role in the activities of the King's Business School Student Investment Portfolio, and also served as a mentor to first year students.  She completed internships at Point72 Asset Management in New York, BlackRock, and Goldman Sachs before starting a role in the Goldman Sachs securities trading team in August. 
King's Business School Executive Dean Stephen Bach said of Joana: "Joana's academic performance was exceptional, but she threw herself into the life of the school with equal verve.  I am sure that she has a bright future ahead of her and we are proud of the part that she has played in the King's Business School community."