23 October 2017
NMES celebrates Women in Science Week 2017
The Faculty held its annual Women in Science Week from 4-11 October 2017 with a Women in Science Lunch, NMS at the Movies, and our own take on the international event Ada Lovelace Day. The three events celebrated the achievements of women in science within the Faculty and beyond, and aimed to highlight the issues of gender equality and representation in STEM more widely.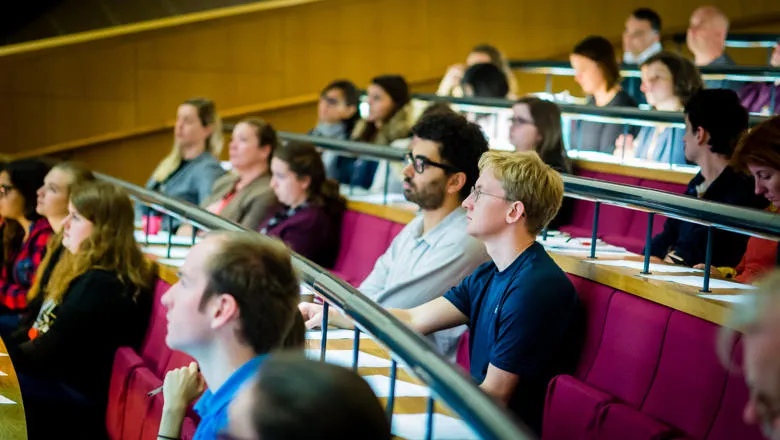 People sat in a lecture hall
On 4 October, the Women in Science Lunch welcomed staff members, winners of the Women in Science Scholarship and 2016-17 female prizewinners from across the Faculty. Attendees included representatives from King's Women in STEM (WiSTEM) and Women in Physics student societies, Department Equality and Diversity Leads and Heads of Department.
The following Monday, NMES at the Movies returned with a fully booked screening of the 2016 biographical drama Hidden Figures, depicting the prejudice faced by female African-American mathematicians working at NASA during the Space Race. The film highlighted the remarkable achievements of Katherine Johnson, the mathematician who calculated flight trajectories for Project Mercury, the US's first human spaceflight programme, and other missions, NASA supervisor Dorothy Vaughan and NASA Engineer Mary Jackson.
The week culminated in NMES's Ada Lovelace Day on 11 October, an afternoon of talks featuring leading journalist, science writer and broadcaster Angela Saini, who spoke about her recent book Inferior: How Science Got Women Wrong - and the New Research That's Rewriting the Story. Angela explained how centuries of flawed science has led to an inaccurate and damaging picture of women, creating societal perceptions which still need to be fought against today. She demonstrated how observing nature has often led scientists to draw incorrect conclusions which have held women back personally and professionally, especially within STEM subjects.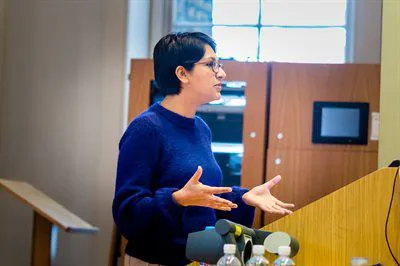 Angela Saini
President of King's Women in STEM (WiSTEM) student society Michaella Pettit then introduced the work of the society, before a lively panel discussion chaired by Peter Main, Head of the Department of Physics and chair of the Faculty Equality & Diversity Committee. Angela, Michaella and Peter were joined by Department of Informatics PhD student Fares Alaboud and Senior Lecturer in Chemical Biology Rivka Isaacson to debate how we can strive to achieve gender equality in higher education. An audience Q&A led to discussion around staff engagement, fighting prejudice, and the 'echo chamber' effect on social media.
The event was followed by a reception which gave participants and audience members the chance to continue the conversation, sparked by the range of books and postcards provided showcasing women in science throughout history.
Read more about the Women in Science initiative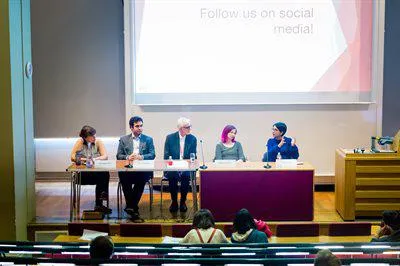 Panel discussion