03 February 2020
ParaPride and Queer@King's champion inclusive spaces for the LGBT+ disabled communities
Zaiba Hakim
Queer@King's backs local activism and civic action by collaborating with ParaPride, King's new activist-in-residence, who launch the first fully accessible Winter Carnival for LGBT+ History Month.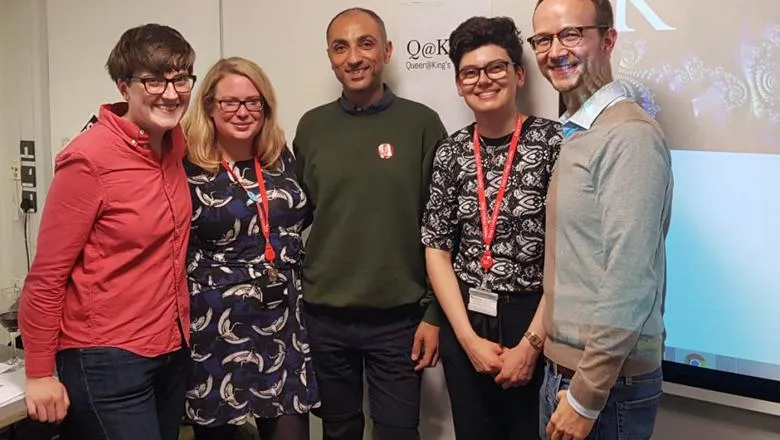 Queer@King's team featuring ParaPride Co-Founder, Daniel Lul
London's first official Carnival for queer people with disabilities
This month, Queer@King's and ParaPride will launch the first fully accessible Winter Carnival in partnership with the Stratford Arts Centre taking place on 21 February 2020. The event will bring together a host of international superstars and beginners alike who take to the stage for the largest disabled queer performance. The Carnival will help raise vital funds for ParaPride's 2020 activity programme, which includes social outings and workshops as part of ParaPride's Community Outreach project. The Carnival will mark LGBT+ History Month and will be the biggest showcase of disabled queer talent to ever take place in the UK. 
ParaPride is the first official charity focusing on the connection between the disabled and LGBT+ communities – they believe everyone is entitled to engage with the LGBT+ community and in doing so, they actively champion inclusive activities which are accessible and open to everyone. In October 2019, ParaPride became the first-ever activist-in-residence at Queer@King's and are partnering with the research centre for several events over 2020. 
Funding for the activist-in-residence scheme has been provided by Arts and Humanities Research Institute as Queer@King's is one of its constituent research centres.
What does ParaPride do?
Increase visibility and volume of inclusive spaces for disabled LGBT+ people
Create events with accessible social areas for people of different impairments
Promote information and awareness training for better consideration of the obstacles faced by disabled communities
Queer@King's is an interdisciplinary group of researchers interested in the study of gender and sexuality in the Faculty of Arts & Humanities. The Centre is directed by Sebastian Matzner, Senior Lecturer in Comparative Literature at King's College London, and is made up of a community of students and scholars who ally and advocate queer activism, art and community work.
Queer@King's has always considered itself an ally of and amplifier for LGBTQ+ activism.

Sebastian Matzner, Director of Queer@King's
Commenting on the collaboration with Queer@King's and what he hopes to achieve, Daniel Lul said:
I had the pleasure of meeting the wider Queer@King's team - I was so impressed by the level of expertise, experience and aptitudes I came across, I couldn't stop thinking of the great things that could happen by incorporating these individual talents within ParaPride.

Daniel Lul, Co-Founder and Community Engagement Director of ParaPride
Through the residency, ParaPride will be able to connect with King's students, researchers and make use of King's world-class facilities to help create a broader impact in addressing the needs for more inclusive LGBT+ spaces.
The great advantage of having Higher Education Institutions encouraging activist projects is the ability they have to share their many resources. King's was able to fulfill this role perfectly through the Activist-in-Residence scheme.

Daniel Lul, Co-Founder and Community Engagement Director of ParaPride
In this story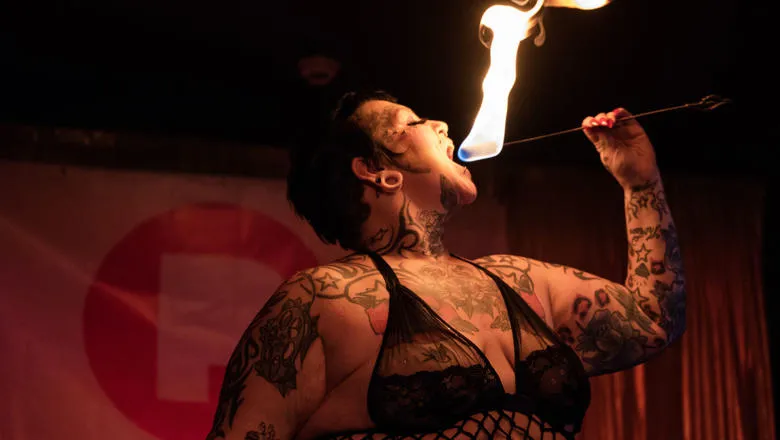 For LGBT+ History Month, join ParaPride and Queer@King's in making LGBT+ history at Stratford Circus Arts Centre.