30 March 2022
Rumble Fund Lecture examines Greek portrayal in 50's and 60's pop-culture
The 2022 Rumble Fund Lecture in Classical Art was delivered by Professor Dimitris Plantzos from the National and Kapodistrian University of Athens, with the title Acropolis Adieu: Popular Images of Greece in the 1950s and '60s. The Centre for Hellenic Studies at King's and Department of Classics is delighted to share a recording of the lecture below.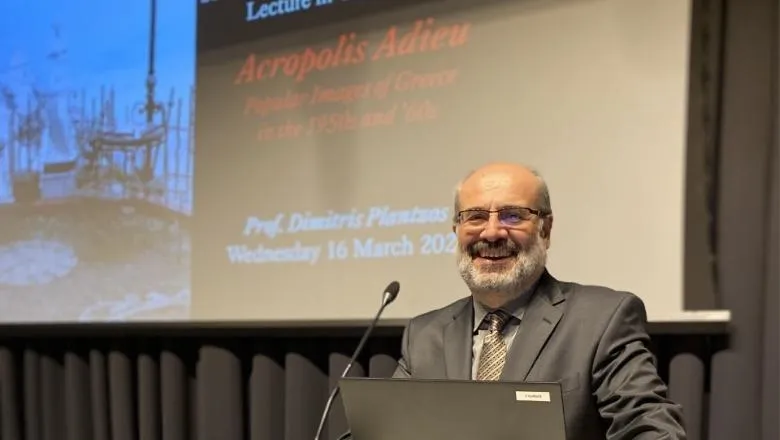 The Rumble Lectures have been held every year since 2014, and Professor Plantzos' lecture- a collaboration between the Centre for Hellenic Studies and Department of Classics and the Courtauld Institute and Institute of Classical Studies- was delivered to a large audience in Great Hall at King's on 16 March 2022.
Plantzos' lecture revisited a selection of international pop-culture products from the 1950s and the 1960s (including songs, movies and novels), in order to examine ways in which Greece and 'Greekness' were imagined and portrayed. Broadcasting images of an exoticized – and quite often Orientalized – Greece, the international pop-culture industry was able to create a convenient narrative of 'merry backwardness' for the country and its people. Greece is constructed in these products as a world apart – somewhat eccentric but also underdeveloped; a place to visit yet certainly also a place to leave behind; a landscape of ancient glories and modern distractions from modernity itself; a land defined by its own separateness. Yet these imageries were often adopted with marked enthusiasm by the Greek composers, lyricists and film directors themselves, who ended up creating the thoroughly imagined Greece we still inhabit today.
Dimitris Plantzos is Professor of Classical Archaeology at the National and Kapodistrian University of Athens. He studied history and archaeology at Athens, and holds an MPhil and a DPhil in classical archaeology from Oxford, where he also spent three years as a British Academy Postdoctoral Fellow. He is the author of various papers and books on Greek art and archaeology, archaeological theory and classical reception. His Greek-language textbook on Greek Art and Archaeology, first published in 2011 by Kapon Editions, was published in 2016 in English and is now available by American publishers Lockwood Press in Atlanta, Georgia. His most recent book is The Art of Painting in Ancient Greece, published by Kapon Editions and Lockwood Press in 2018.
More information about the Rumble Fund in the Department of Classics at King's College London can be found here.