13 March 2017
Scientist's unique ceramics exhibited
A theoretical physicist from the Faculty of Natural and Mathematical Sciences who creates ceramic artwork inspired by his scientific research has held his first solo exhibition.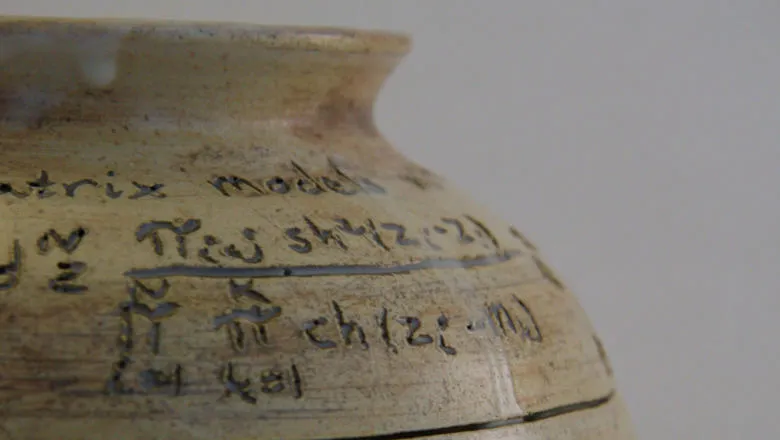 Theoretical physics ceramic
Dr. Nadav Drukker incises calculations from his research onto his stoneware and porcelain vessels, which after glazing using traditional methods, results in an unique contemporary artwork.
A collection of his ceramics creations was displayed the Knight Webb Gallery in Brixton between 16th March – 8th April 2017.
The collection comprised six projects: Circle, Cusp, Index, Polygons, Cut and Defect, each based on a research paper published by Dr. Drukker.
Dr Drukker, whose academic work centres on String-Theory, explained: "My research is quite abstract and I find using by calculations in my art is a great way of communicating it to the public.
"From an early age I had a strong affinity to ceramics; the Japanese vessels that my grandfather collected and the shards of pots in local archaeology. I started practicing pottery myself towards the end of my PhD in California, and have been doing it regularly ever since. Originally it was a way to focus on something other than the gruelling research environment, but recently I felt compelled to combine my two passions.
"As I started transcribing my calculations on clay, I realised that the process itself was not a mere reflection of my research, but was influencing it. I revisited old notes and learned new things from re-examining them. I also spent a lot of time trying to find ways to distil my work into a form that is visually appealing."
For more information visit: http://www.knightwebbgallery.com/