03 November 2023
'Seeking Connection: Living Well with Technology Exhibition' opens in Bush House
The new exhibition from King's Culture and the Digital Futures Institute features art installations and research collaborations exploring technology in connection with our well-being, community and planet.
Yesterday King's Culture and Digital Futures Institute launched the new exhibition Seeking Connection: Living Well with Technology. The exhibition showcases interactive works that explore the different ways we are learning to live well with technology and establish meaningful connections with ourselves, our communities and our planet.
The diverse range of displays find their origins in a variety of research disciplines across King's, and are united by their aim of understanding and improving the ways we are learning to adapt to living with new and emerging technologies.
Seven art works uniquely encapsulate how we might live with new technology. Visitors can meet Purrble, the cuddly smart toy designed to support young people's emotional and mental wellbeing, and experience forestscapes, a soundscape piece exploring the forest as a living cultural landscape. The exhibition also features the immersive audio-visual experience Particle Sanctum, which uses live data from cosmic ray detectors and from live readings from the Super-Kamiokande neutrino observatory in Japan.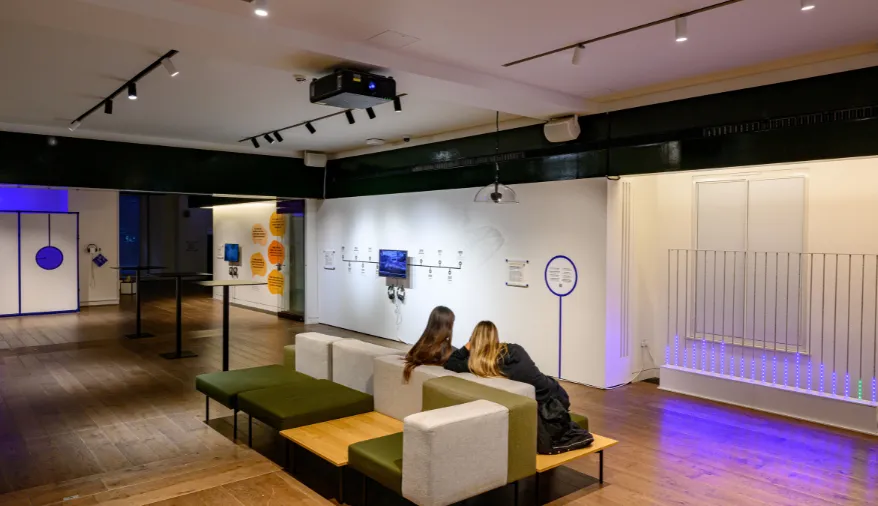 The exhibition is located in the Arcade at Bush House. Photo (c) David Tett
Opening the event, Leanne Hammacott, Head of Programming for King's Culture, thanked everyone who had produced and supported the exhibition. Welcoming attendees, she celebrated the successful collaboration with the Digital Futures Institute, and invited everyone to 'explore the theme of living well with technology' in connection to 'our selves, our bodies, our community and the world around us'.
Professor Marion Thain, Executive Dean for the Faculty of Arts & Humanities and Co-Director of the Digital Futures Institute, spoke about the importance of understanding 'what individuals need from technology'. She emphasized the exhibition's engagement in the discussion around ethics and technology, and the need to develop better frameworks for ensuring technology supports 'social and human good.' Professor Thain stressed the importance of ensuring that questions around ethics, diversity and bias 'come front and centre' for building, interacting and living better with technology.
With a final closing speech, Professor Steven Connor, Director of Research at the Digital Futures Institute, thanked everyone for supporting the event. He celebrated the origins of the exhibition as a development from the King's pavilion at the 2023 London Design Biennale, and the chance for researchers to update and develop their projects. Whilst acknowledging 'no technology comes with a complete set of instructions for use', Steven concluded with the hope that the exhibition will spark new conversations about the role of technology in our world.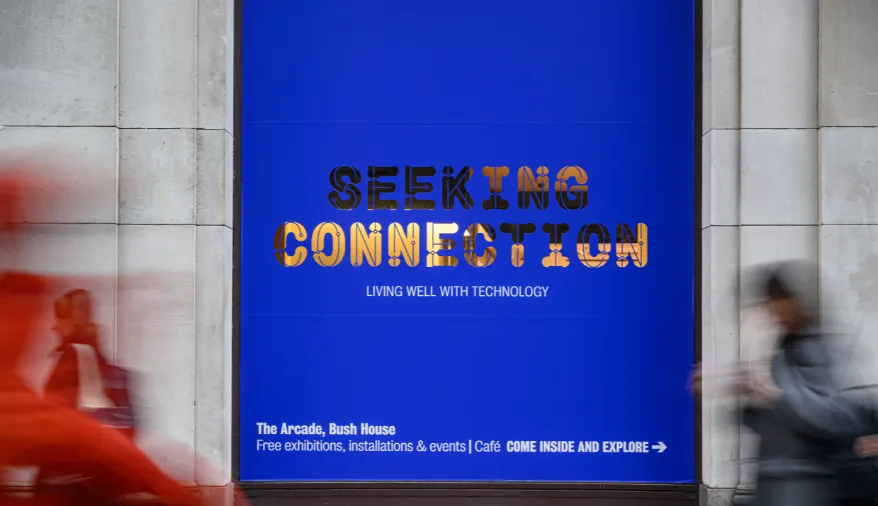 Outside display for Seeking Connection: Living Well with Technology (c) David Tett
Seeking Connection: Living Well with Technology
In this story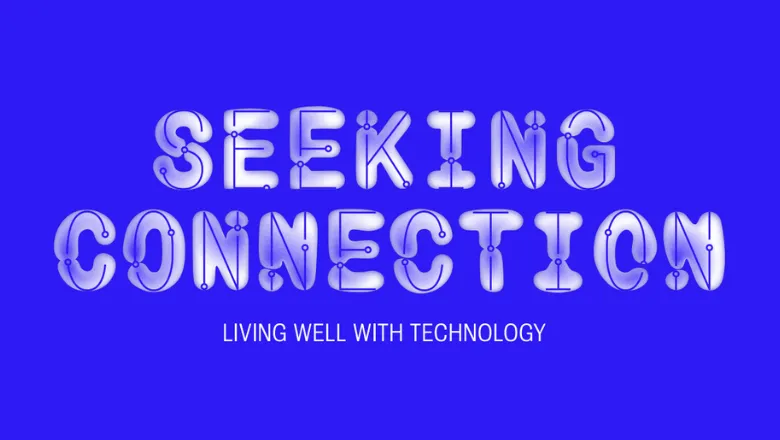 King's Culture and the Digital Futures Institute present Seeking Connection: Living Well with Technology, an exhibition...