Helping keep track of wildfires around the world
How research from King's means the world is now better able to monitor, map and understand where fires are occurring in real time and at global scale.
Every year an area around the size of India is burned in landscape fires worldwide and, while some are an ecological necessity, fires in areas that do not naturally burn can be ecologically damaging and are also responsible for significant greenhouse gas emissions.
Fires can also put homes, infrastructure and human lives at risk – most notably though their effect on air quality. Smoke from landscape fires has been linked to hundreds of thousands of early deaths in people worldwide every year – and could account for or almost 1 in 10 deaths around the world in children under 5, almost all in the developing world.
Given the threat landscape fires can pose, agencies around the world have come to understand the importance of reliable information about where and when they occur, and how strong a source of smoke they are.
Thanks to research from King's over the past two decades, the world is now better able to monitor, map and understand where such fires are occurring in real time and at a global scale. This means fire response agencies, landscape managers, public organisations and individuals have the knowledge to be able to act appropriately where they can, to help protect themselves, their property and the natural habitats they value.
Assessments of Fire Radiative Power made from Space
King's researchers have in particular improved the detection of fires made from Earth orbiting satellites and have led a great deal of work on how to assess the Fire Radiative Power (FRP) of landscape fires from space. FRP is a measurement of the amount of radiant heat being emitted by a fire, and it generally increases with the amount of vegetation burned and smoke released.
The team, led by Professor Martin Wooster, Professor of Earth Observation Science in our Department of Geography and involving King's researchers Weidong Xu, technician Jiangping He and others - alongside external collaborators - were the first group worldwide to establish the link between FRP and the amount of material being burned, and the first to use geostationary satellites to assess FRP. Linking these topics allowed fire emission estimates to be produced from the FRP approach, and enabled newly-planned satellite instrumentation to be adjusted so that it could measure the FRP of fires worldwide more accurately, therefore enabling organisations and countries to manage and respond to fire more effectively.
Use of FRP in this way was an improvement on previous methods of fire emissions estimation, which often only worked after fire had happened or provided only a few observations a day. Geostationary satellites provide many observations every hour, helping keep track of rapidly changing fires in a much more detailed way.
This work also enabled the development of new algorithms that allowed satellite instruments to pick up smaller fires – fires that previously might have gone undetected. One such algorithm was developed for a new instrument launched into space on two new European Sentinel-3 satellites in 2016 and 2018, with the data produced helping to detect and quantify the FRP of fires burning across the entire planet.
The design of the third generation Meteosat geostationary satellite due for launch this year was also influenced by the team's work, and new European and African fires should be able to be detected in an extremely timely manner by this new system.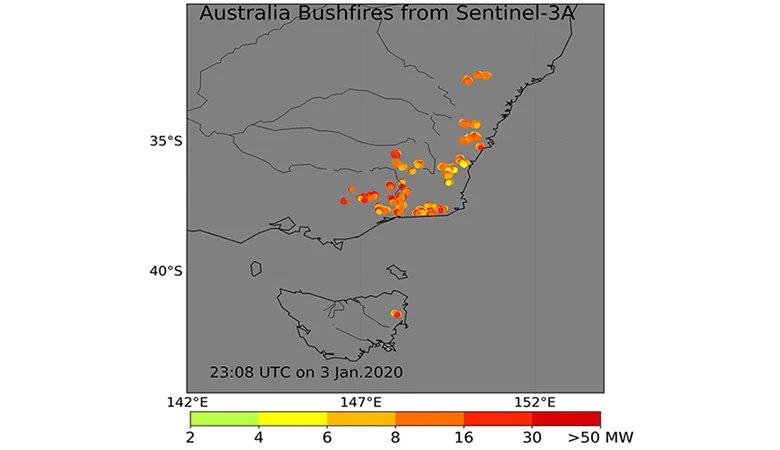 Active fire detections made from the Sentinel-3A satellite over the extreme Australian bushfires (3 Jan 2020). The higher the Fire Radiative Power (in MW) the more extreme the fire at that location.
Supporting countries at risk of fire
King's researchers have worked with the Canadian Forest Service on the Canadian WildFireSat, the world's first dedicated and operational wildfire monitoring satellite. Canada experiences on average around 17,000 km2 of forest fires each year, and it has been estimated that the new satellite will save its economy 2.5 billion Canadian dollars annually, given the high costs of wildfires through health impacts, economic shutdowns, fire-suppression activities and evacuations.
Products using FRP are also used to help generate "fire risk indexes" covering Southern Europe and North Africa. These are used to give warnings about areas that are extremely vulnerable to landscape fires due to periods of unusual flammability.
Better air-quality forecasts
King's researchers were involved in early research which related FRP measures to releases of health-impacting particulates and gases, which together with the other work described has enabled the use of FRP to assess air pollution from fires and so improve air quality forecasts.
Within the EU's Copernicus Atmosphere Monitoring Service (CAMS), the FRP approach is used to provide an estimate of smoke emissions from all satellite-detected wildfires burning around the planet, based on a system called the Global Fire Assimilation System (GFAS) that King's researchers have been intricately involved in developing.
This CAMS GFAS data is used by organisations around the world, including one that provides monitoring and early warning of smoke pollution to ten nation states from peat, forest and agricultural burning across South East Asia. This enables these countries to try to minimise people's exposure to the harmful particulates, such as through closing schools and halting sporting events, as well as ensuring planes are not trying to fly in low visibility conditions.
Millions of people worldwide also receive this data, directly or indirectly, as it forms the basis of air quality information via media outlets and apps, which people with pre-existing health conditions such as asthma can use to take preventative actions when poor air-quality is forecast.
Ongoing work to understand and live with fire
Work on understanding and living with fire on our planet is ongoing through the Leverhulme Centre for Wildfires, Environment and Society which was launched in 2019 with a £10 million investment from the Leverhulme Trust.
The Centre brings together natural and social scientists in a collaboration between four universities, with Imperial College London and King's as the primary partners and the University of Reading and Royal Holloway also bringing important, focused expertise. As the centre has funding over a decade, this enables long-term planning and research that would be difficult to accomplish in a shorter time frame.
Professor Martin Wooster who is an Earth Observation expert, is an Associate Director of the Centre alongside Professor David Demeritt, an expert in environmental policy, risk communication and governance at King's, who leads on the social science and human/physical interdisciplinary expertise.
You can read more about the history of achievements in the field of active fire remote sensing, current applications and predicted future areas of focus, in this recent article published in the journal Remote Sensing of Environment. Professor Wooster was the lead author of the article, which was co-written by leading experts in the field from around the world.
Delivering the UN Sustainable Development Goals
King's College London has a long and proud history of serving the needs and aspirations of society. We are committed to the UN Sustainable Development Goals (SDGs) as a university, and we use them as a framework for reporting on our social impact. The SDGs are a set of 17 goals approved by the 193 member states of the United Nations (UN) which aim to transform the world by 2030. This research supports SDGs 3, 15, and 17.
Society
Technology & Science
In this story