Stem cell therapy to repair stroke damage
Our stem cell research underpinned the UK's first ever clinical trial to treat stroke patients with manufactured neural stem cells.
Research led by Professor Jack Price & Dr Mike Modo
Our stem cell research underpinned the UK's first ever clinical trial to treat stroke patients with manufactured neural stem cells.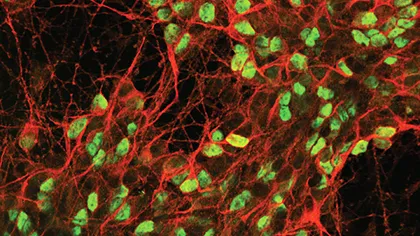 About 150,000 people have a stroke every year in the UK. Most are ischemic because the blood supply to the brain is blocked. As a result, billions of brain cells die because they are deprived of oxygen and are no longer able to send signals to other parts of the brain. About half of the people who survive a stroke are left with some sort of disability as a result.
Neural stem cells have the ability to become any of the specialised types of cells that make up brain tissue. For more than a decade, our scientists have collaborated with the biotech and King's College London spinout company ReNeuron to develop stem cell therapies to help the brain recover after a stroke.
Early research was designed primarily to evaluate the safety of the stem cells and the technique used to implant them in the brain. Our researchers, led by Professor Jack Price and Dr Mike Modo, helped devise a pivotal technology for generating neural stem cells (called CTX0E03) that have the potential to be used for therapy.
The procedure is called 'conditional immortalisation' and it enables one single neural stem cell to 'expand' to yield an infinite number of exact copies. The procedure has enabled ReNeuron's lab to generate and store enough CTX0E03 cells – providing many thousand potential doses of the therapeutic stem cell line, called ReN001.
'Conditional immortalisation is a lab-based procedure that transduces genes into a single neural stem cell to change its behaviour and make it multiply forever. The procedure ensures that all the copies in the cell line retain the stability and properties of the original stem cell,' says Professor Price.
With pivotal funding from the Charles Wolfson Charitable Trust, our researchers were then able demonstrate that rats disabled by a stroke 'got better' when the CTX0E03 cells were injected into their brains.
The results of these studies were used to support ReNeuron's application for regulatory approval to test ReN001 in humans. Because ReN001 is the UK's first therapeutic product containing stem cells, the application was considered by both the Medicines and Healthcare products Regulatory Authority (MHRA) and the Gene Therapy Advisory Committee (GTAC).
Approval was needed not only for the CTX0E03 cells but also for the specific ReN001 formulation, and the device used in the trial to inject the product into the brain. This had to be specially manufactured by ReNeuron as there was no existing device licensed for such a procedure, says Professor Price.
ReN001 has now been tested on a dozen stroke victims in PISCES (Pilot Investigation of Stem Cells in Stroke) the UK's first ever clinical trial of a therapeutic product containing manufactured neural stem cells. Encouragingly, this therapy proved safe. Moreover, the patients showed a clear, though modest, improvement in neurological symptoms. This innovative project is now moving into a Phase II trial in an attempt to prove efficacy.
The PISCES trial is taking place at the University of Glasgow's Institute of Neurological Sciences, and ReNeuron is now seeking approval for a larger trial. The company is also using CTX0E03 cells in ReN009, a product it is developing to treat critical limb ischaemia. The disease restricts blood flow to the limbs, particularly the legs, causing a lot of pain, and in extreme cases people may lose a limb because of the disease.
References
Pollock K et al. A conditionally immortal clonal stem cell line from human cortical neuroepithelium for the treatment of ischemic stroke. Exp Neurol, 2006 May; 199(1): 143-55
Smith EJ. et al. Implantation site and lesion topology determine efficacy of a human neural stem cell line in a rat model of chronic stroke. Stem Cells, 2012 April; 30(4): 785-96
Virley D et al. Primary CA1 and conditionally immortal MHP36 cell grafts restore conditional discrimination learning and recall in marmosets after excitotoxic lesions of the hippocampal CA1 field. Brain, 1999; 122(Pt 12): 2321-35
Hassani Z et al. Human neural progenitor cell engraftment increases neurogenesis and microglial recruitment in the brain of rats with stroke. PLoS ONE, 2012; 7(11): e50444
Gene Therapy Advisory Committee (GTAC), 16th annual report (covering the period from January 2009 to December 2009)
Health