20 September 2019
"Stubbornness and rage and coffee": Caroline Criado-Perez talks to Julia Gillard about what keeps her fighting
Feminist activist Caroline Criado-Perez talks to Julia in a new podcast episode about campaigning to increase female representation in society, social media abuse, and her new book on the gender data gap.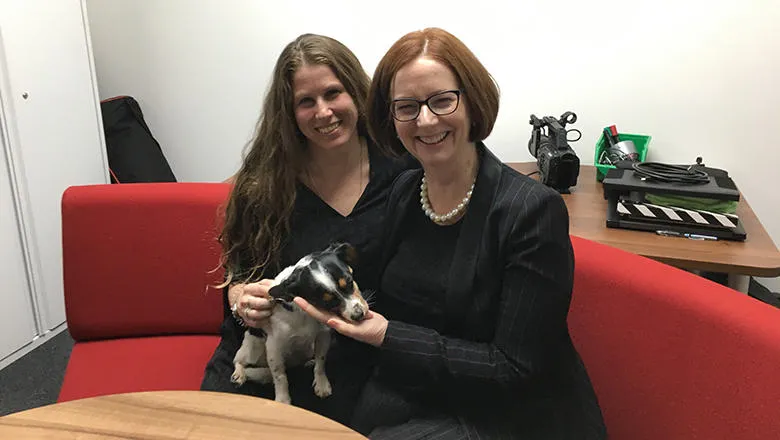 Feminist activist Caroline Criado-Perez talks to Julia in a new podcast episode about campaigning to increase female representation in society, social media abuse, and her new book on the gender data gap.
Feminist activist Caroline Criado-Perez speaks to Julia Gillard about campaigning to increase female representation in society, the social media abuse she has received, and her new book on the lack of research on women.
Criado-Perez, famous for getting Jane Austen on the ten-pound note and the first statue of a woman in Parliament Square, is the latest guest to appear on Gillard's podcast series.
Criado-Perez has campaigned tirelessly to bring the unequal representation of women to the fore, yet she wasn't always a feminist. Like many girls growing up in the '90s, she saw the term as "embarrassing" and a "dirty word".
That all changed at university, where she had a "feminist awakening": 
"I'd genuinely believed this cultural stereotype about women and… I thought about the impact it had had on me growing up, that I had felt that my sex was an obstacle to be overcome."
This realisation led her to question the ways in which women had been underrepresented in her education – their contribution to science, history, literature had all been denied to her growing up:
"All these little instances add up… to this overall narrative and message that women haven't done anything and also that women aren't 50% of the population. As I discovered in the research for my book, that has really serious implications for women."
Some years later, her "absolute rage" led her to take on the Bank of England, using the Equality Act to challenge them to put a woman on the new ten-pound note. Her campaign was successful and Jane Austen was chosen.
Following the success of that campaign, Criado-Perez was looking to take a break from campaigning, until she went on a fateful run through Parliament Square on International Women's Day 2016:
"I ran past Churchill, I ran past David Lloyd George … and I suddenly thought, 'Hang on a minute, surely not, they can't all be men?' and I looked and I counted them all and they really were – 11 statues all of men."
Shocked that no one had thought to correct this stark gender imbalance in a hugely "symbolic" and "high-profile square", she sat down outside Buckingham Palace and started a petition on her phone right there and then.
Two years later, the new statue of suffragist Millicent Fawcett was unveiled, and has become a focal point for passers-by, as she's told by supporters:
"Millicent Fawcett is the statue that people are always hanging out with and taking selfies with…that is exactly what I intended… that it would be something that people would want to interact with and would make people stop and learn about this amazing woman."
But this hugely successful campaigning has come at a cost. At the height of both campaigns she was receiving 50 threats of rape and murder every hour. Despite the abuse, she is clear that she doesn't want to be known as "rape-threat girl" and that she's not going anywhere:
"Screw these guys. They want me to shut up, they want me to move off and I'm not going to do that."  
She is also unequivocal in calling for social media companies to do more:
"[They] should be employing far more women who understand the intricacies of how misogyny works because if you've got a team of mainly male moderators, they won't necessarily understand…whether or not a post is actually threatening or offensive or misogynist because they don't live it."
The discussion moves on to Criado-Perez's latest book, Invisible Women, which highlights the stark lack of research data on women and women's bodies, in everything from medicine to the workplace to health and safety. This has serious consequences, as she explains:
"Women's heart attack symptoms, which are typical for women, are called 'atypical'…Doctors were also not recognising these symptoms and therefore women were much more likely to die during a heart attack than men."
This isn't the only area where women are at greater risk because of a lack of research:
"Car safety data is again incredibly shocking…We have been designing car safety around the male car crash test dummy…Women are 47% more likely to be seriously injured and 17% more likely to die if they're in a car crash."
In her view, the reluctance to collect equal data on 50% of the population is a direct result of the underrepresentation of women everywhere else, including on bank notes:
"We are so used to seeing women as not 50% of the population…it makes sense when you look at the excuses that get rolled out. They just wouldn't make those excuses if they were really thinking women were 50% of the population and therefore just as important and just as relevant as men."
You can find this episode and previous episodes of A Podcast of One's Own, on all the main podcast platforms.