07 November 2023
Tech event highlights new anti-cancer AI project
Professor Anita Grigoriadis and members of her lab were invited to a prestigious talk by Cognizant to discuss their Node Code Breakers project and role of AI in accelerating breast cancer research.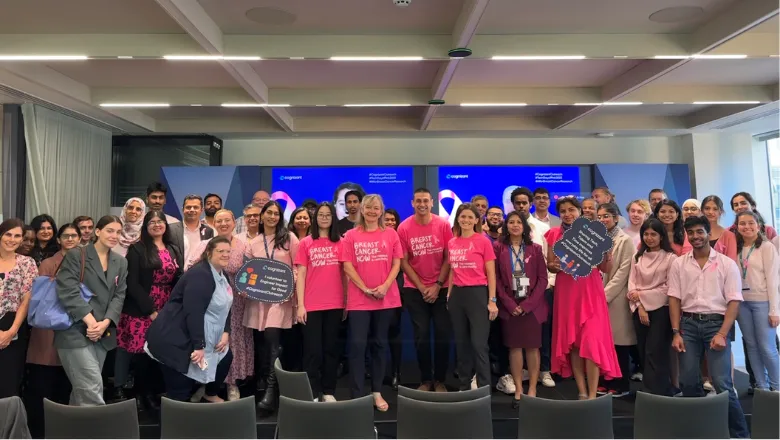 Last month, the multinational technology company Cognizant hosted an event in support of Breast Cancer Awareness Month as part of their Tech Day of Pink highlighting breast cancer research.
Professor Anita Grigoriadis was joined by Rohit Alimchandani, Head of Life Sciences at Cognizant UK & Ireland, as well as Greg Verghese (Research Associate and Computer Scientist) & Mengyuan Li (PhD student) from the King's-based Cancer Bioinformatics Laboratory led by Professor Grigoriadis, and Holly Rafique (NIHR Pre-Doctoral Fellow). 
Professor Anita Grigoriadis and her laboratory were invited to discuss their work on the Node Code Breakers project, which is currently developing an AI algorithm for breast cancer prognostics.
The panel discussed the role of AI within the Cancer Bioinformatics Laboratory's research and how it's being leveraged in cancer research more generally, focusing on real-world case studies. As well as this discussion, the panellists celebrated the volunteering work of Node Code Breakers by presenting awards to five outstanding volunteer trainers from around the world.
Following the panel discussion, the participants gave some time to Biomedical undergraduate students from the University of Westminster to discuss a career in bioinformatics research.
Cognizant have been working with the Cancer Bioinformatics Laboratory on the citizen science project Node Code Breakers as part of their Breast Cancer Research Volunteering Campaign.
Over 3500+ employees have volunteered alongside other members of the public to annotate breast cancer images, which will help the algorithm predict the prognosis of breast cancer patients. Overall, the project has received more than 420,000 annotations thanks to the efforts of 6700 volunteers.
Cognizant is an information technology company that aims to develop IT infrastructure, software & AI programs to support companies and organisations in a range of industries, including the life sciences sector.
In this story