03 July 2023
The Future of the Amazon: Hope and Challenges for Brazil
Six months after the elections in Brazil, we held a discussion about the hope that president Lula will fulfil his promise of protecting the Amazon rain forest, and the challenges he and local communities in the Amazon face home and abroad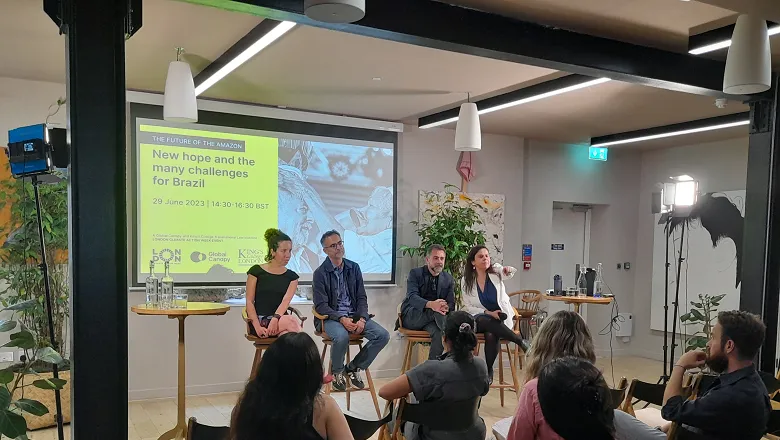 Brazil is the world's fifth-largest emitter of greenhouse gases, with almost half of Brazil's carbon emissions coming from deforestation. Brazil is central to the success of the Paris Agreement and post-2020 global biodiversity targets.
During Brazil's 2022 presidential elections, Lula's renewed and ambitious commitments to the environment were a core part of his political agenda, including the commitment to zero deforestation in the Amazon.
However, due to the ongoing opposition by the National Congress to Indigenous peoples rights and the environmental agenda, there are many questions about if and how Brazil can again become a global beacon for sustainability.
As part of the King's College Transnational Law Institute's and Global Canopy London Climate Action Week agenda, we held a panel discussion to discuss the current challenges of Brazil's climate-nature-people agenda and the role of the international community.
Watch the full recording of the discussion:
"The problems of the Amazon did not start 4 years ago and did not end 5 months ago, we need funding and Political will as the current National Congress does not wish to protect the forest", said Professor Octavio Ferraz, co-director of the TLI. "Indigenous people in this region need our solidarity as they are a minority".
Marcio Astrini, Executive Secretary of the Climate Change Observatory in Brazil, warned that "The defeat of Bolsonaro is a victory that doesn't allow us to relax. Those causing deforestation are still there, working. They are there in the Congress".
Erika Berenguer, Senior Research Associate at the Ecosystems Lab in the University of Oxford, noted that danger might be forest fires rather than the deforestation that has decreased since the elections. "2023 is an el nino year, the Amazon will become drier and hotter. Amplified effects of drought can lead to wild fires", she said.
In this story