30 March 2015
The Oriental Miscellany by Jane Chapman
Jane Chapman releases the Oriental Miscellany for harpsichord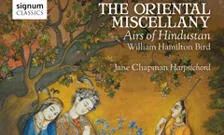 Oriental Miscellany
Jane Chapman, a recent Artist in Residence at King's supported by the Leverhulme Trust, is releasing her disc for harpsichord: the Oriental Miscellany, in April.
Arranged and adapted by William Hamilton Bird, the Oriental Miscellanyis the first published transcription of Indian vocal music in Western notation, taken from live performance. Published in Calcutta in 1789 it was considered an important historical source, reflecting Western fascination with the East, and the vogue for Hindustani Airs.
There has already been a lot of interest in this unusual repertoire from the Centre of Indian Music Experience, Bangalore, a short film commissioned by Penguin India about the opium trade by Amitav Ghosh and BBC Radio 4's mega series Incarnations written by Professor Sunil Khilnani.
Jane is Professor of harpsichord at the Royal College of Music and Turner Sims Fellow at the University of Southampton.